On May 6, 2017, I went to Philadelphia to experience the exhibit: American Watercolor in the Age of Homer and Sargent, and I was reminded how very important it is to take advantage of seeing art first-hand, as opposed to relying on reproductions of it either online or in books.
I bought the official exhibition book while I was at the exhibition, but I bought the book for what it said about the paintings and not for an accurate record of how the paintings look. I have learned that paintings are difficult to reproduce and that books rarely manage the task successfully.
Colors rarely translate well in art books, photographs, and online, and although I have seen reproductions of John Singer Sargent's  Spanish Fountain many times before, I have never been quite sure whether the painting was done in warm tones, as above, or cool tones, as below:
Spanish Fountain was in the exhibition American Watercolor, and now that I have actually seen the painting, I know that it is painted in warm hues and that it is more like the top reproduction than the second, but neither of the above images does Sargent's Spanish Fountain justice.
John Singer Sargent's handling of light in his watercolors borders on magic. You cannot detect it in either of the above reproductions, but Sargent also suggests more detail in the faces of the cherubs than the reproductions depict. I have always liked Singer's work, but until I saw his actual paintings, I never fully experienced them. Now that I have actually seen Sargent's watercolors, my appreciation of Sargent has moved to another level.
Tent in the Rockies – John Singer Sargent
Reproductions of Sargent'sTent in the Rockies suggest something of the artist's masterful use of transparent watercolor, but the reproductions do not nearly capture the luminosity of paintings like Tent in the Rockies. When Sargent captures the quality of anything white, he infuses the exposed white watercolor paper [the part that he does not paint at all] with whispers of delicate shades of yellow ochre, blue, and burnt sienna. Because of the luminosity that he captures, his predominantly white paintings, like Tent in the Rockies, scream from their places on the wall.
In the reproductions of Tent in the Rockies, you see nothing of the bits of color that Sargent masterfully lays to suggest the tent's birch tree poles, and you do not fully realize that the artist only suggested the gear inside the tent with nothing more than a few dabs of perfectly-placed color. Even when seen in person, the gear inside the tent has no detail at all; yet, a viewer's eyes speculate into form from the suggestions that they see in the pools of color.
Diamond Shoal – Winslow Homer
Many times, I have seen reproductions of Winslow Homer's painting Diamond Shoal, and I had always believed that this would be a large painting. The imagery is large and robust and expansive, but when I saw Diamond Shoal in the Museum, I was amazed at how very dwarfed the painting seems in a museum setting. Diamond Shoal measures 13.5″ x 21.75″ but in a museum setting, it seems to be about 8″ x 10."
Boy Fishing – Winslow Homer
The Exhibition American Watercolor asks the viewer the question: which painter do you prefer–Winslow Homer or John Singer Sargent? While I love most of Homer's paintings, I aspire toward Sargent's mastery of paint.
In the 21st Century, Winslow Homer's paintings–especially those containing human figures–are nostalgic. They recall a slower time in history, but few of Homer's paintings have  the degree of luminosity that Sargent captures.
Garden in Nassau – Winslow Homer
In my opinion, Homer's painting Garden in Nassau is one of his most luminous, and because of the way that the child is looking wistfully at the coconuts on the other side of the wall, it is also nostalgic. Winslow Homer was more than a painter of scenes, he was a storyteller, and the viewer experiences a story through Homer's painting Garden in Nassau.
There is also an element of storytelling in Sargent's Tent in the Rockies. When we see the suggestion of the gear inside the tent, we begin to imagine a story, and the painting Muddy Alligators suggests a bit of a story.
Muddy Alligators – John Singer Sargent
But the strength of Sargent's work has nothing to do with his story. John Singer Sargent is an inspired painter of light. The exhibition American Watercolor had two full rooms of watercolors that looked like oils and egg tempera paintings. They were painted opaquely and every inch of the paper of those paintings was smothered in paint. I had to force myself to look closely at all of those "watercolors?," but Sargent's paintings were saved for last. They were the dessert of the show–the after-dinner liqueur, and the cream that had risen to the top.
Detail Muddy Alligators
If you look closely at the detail of Sargent's Muddy Alligators, you will see that the alligator on the bottom right has two tiny dots of white that seem to be the glints from two teeth. I may be wrong but those two infinitesimal dots of white seem to be the only bits of opaque paint on Sargent's Muddy Alligators, and I am glad that he painted these two dots opaquely. Although tiny in size, these two tiny spots see to anchor and bring focus to what is happening in the rest of the painting. They draw the viewer's eye to the very bottom of the image, but Sargent's true strength lies in his use of exposed paper and his transparent glazes of color. The tiny slashes of white on the teeth are examples of Sargent's bravura, which is fully realized in some of his best oil paintings, which were not on ehibition in the American Watercolor Show.
When an artist paints with bravura, his brush strokes have an energy all their own and segments of a painting can be enjoyed simply because of the way that they are painted, irrespective of the subject matter of the painting.
John Singer Sargent – Detail of a Portrait
John Singer Sargent was one of the most famous portrait painters in history. He was commissioned to paint many famous and wealthy people; therefore, he did have an ability to capture a likeness. Yet, he did not press all of the energy from his work to do so. In the above painting, look at Sargent's brush strokes in painting the girl's pinafore. 
John Singer Sargent – Daughters of Edward Darley Boit, 1882
When viewed from a distance, the viewer's eyes pull the strokes together, but upon closer observation, one becomes aware of Sargent's energy and his absolute joy in painting. Sargent's work is alive. From a distance, we can see that the youngest daughter is holding her doll, but up close, there appears to be no doll at all. The youngest child is actually just holding slashes of paint.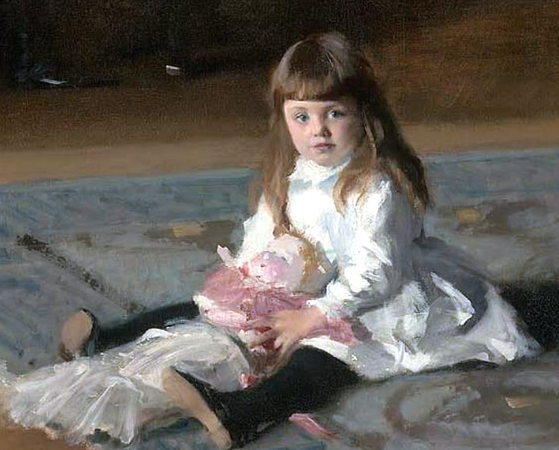 Here is another portrait by John Singer Sargent. Notice how the stripes of white dance across the page. Contrast the slabs of color in the hair to the softness of the girl's face. Sargent painted with bravura only where he could do so and not sacrifice the delicacy that was needed in other spots. I must believe that Sargent's ability to paint white in oil was enhanced by what he had discovered from painting white in watercolor.
 Group with a Parasol – John Singer Sargent – Oil
 Group with a Parasol was the only John Singer Sargent oil in the show American Watercolor. Once again, this photograph of the painting is not representative of the actual work. When you see  Group with a Parasol, the bravura is almost too much–especially for people who don't love great bravura painting.  Group with a Parasol is almost expressionistic, but most of Sargent's figure paintings in oil are painted more delicately. but Sargent's whites always stand out.
John Singer Sargent – Carnation, Lily, Lily, Rose
Detail – Essence of a Lily – Compare how few strokes it took for Sargent to capture the essence of a lily. This is an example of capturing an impression of something, as opposed to painting it in perfect realism. In other words, this is an example of impressionism, which is one of my favorite eras of art.
 Actual Lily
Detail – Essence of Roses
John Singer Sargent did not invent bravura in brush work.
The Dutch painters Rembrandt and Frans Hals were masters of bravura 200 years before Sargent, and I encourage people to examine all of the artists who painted with bravura. It should become apparent that joy in painting is much more than the reproduction of an image. Cameras can copy. Painters should interpret, and the best way to capture vitality and life is to let your pencil and your brush run free. We should merely skip along behind our brushes as they paint. That is where we'll find the joy in making art.
©Jacki Kellum May 7, 2017
Exposed
The colors that John Singer Sargent are listed Here as follows: On the right are modern colors one could use.
This is from the book, "The Technique of Portrait Painting" by Harrington Mann, J.B.
1.  Blanc d' Argent                                                             1.  Permalba White
2.  Pale Chrome                                                                   2.  Cadmium Yellow Light
3.  Transparent Gold Ochre                                         3.  Transparent Gold Ochre
4.  Chinese Vermillion                                                      4.  Cadmium Red Light
5.  Venetian Red                                                                 5.  Venetian Red
6.  Chrome Orange                                                            6.  Cadmium Orange
7.  Burnt Sienna                                                                  7.  Burnt Sienna
8.  Raw Umber                                                                    8.  Raw Umber
9.  Garance Fronce                                                           9.  Rose Madder or Perm Alizarin Crimson
10.  Viridian                                                                         10-14.  same as old name
11.  Cobalt Blue
12.  Fr Ultramarine Blue
13.  Ivory Black
14.  Cobalt Violet
The Conservation Dept of Tate Britain, London also discovered Mars Yellow,
Emerald Green, Sienna, Mars Brown, Red Lead, Cerulean.   The dark backgrounds were often a mixture
of ivory black, mars brown, and lot of medium mixed from stand oil and turpentine.