Think about All of the Houses That have Become Main Characters in Books: Tara in Gone with the Wind, Grandfather's Cottage in Heidi, Bleak House, the Castle in I Capture the Castle, etc. Learning to describe a house is important for anyone to provide a setting or a sense of place for his writing. Our strongest and most readily available descriptions stem from homes our actual experiences; therefore, today, you will practice creating a sense of place by describing a house where you have lived
Jacki Kellum Free Writing Exercise Day 3: Write about a House that was Meaningful to You in Your  Past.
The house may have been one where you lived, or it may have been a place where you visited quite often. It is important that you actually stayed in the house for a long period of time.
As I was preparing this assignment, I remembered one of my very favorite books about a House, Virginia Burton's The Little House.  The following images are from Amazon: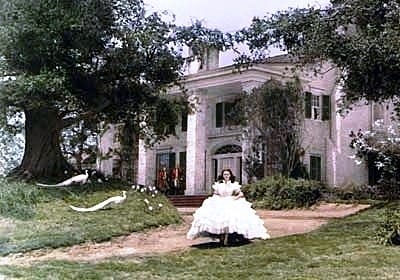 Without a doubt, the book and the movie Gone with the Wind had great influence over my life, and if you think about it, Tara, the house, was one of the main characters in that story
 It is not necessary that the house that you describe is grand, however.  I am as attracted to Heidi's Grandfather's cottage as I am to Tara. In fact, if I were forced to choose one of those two places to live–Tara or Heidi's Grandfather's Cottage–I would choose the latter.I love the warmth and the coziness of the cottage.
Your writing exercise for Day 3 is to write about a House that was meaningful to you in your past, Don't focus on any specific rooms in the house. Tomorrow's exercise will be to write about one of the rooms.
You may notice that we are drawing closer and closer into a place that is important to you.
On Day 1, you described a county where you have lived.
On Day 2, you described a town or a neighborhood where you have lived.
Today, you are describing a house where you have lived.
Tomorrow, you will describe one object in that room.
When you write, you need to be specific. You need to avoid vague generalizations. The  first four exercises of the Jacki Kellum Free Writing Class will help you learn to write specifically.
Get busy an d write.
©Jacki Kellum October 3, 2016
As I have said before, in sharing these exercises, I am Blogging to Book. For that reason, you may not share any of the Free Jacki Kellum Writing Exercises or the other discussion about the exercises.  They are free for you to use but not free to reproduce or share.