On the third Friday of each month, I lead a Book & Movie club at my local library. The idea is to find good books that have been captured as good movies. For many years, it was a bit of a habit to dismiss books made into movies, saying: "But the book is better," and I have found that some people hold on to what may have been a truth at one time. In recent years, however, there have been some excellent movie interpretations of books: i.e. The Lord of the Rings, Out of Africa, Pride & Prejudice, and I can earnestly say that in many cases, I prefer watching good movies to reading.
2005 Pride and Prejudice
I am a visual person, and I love the outstanding, panoramic photography that becomes part of the movie's total experience.
Lord of the Rings
In a great movie, the music becomes part of your total experience, too. I never shall forget the first time that I watched The Lord of the Rings. As soon as the music of the Shire began, I was totally enamored by everything Lord of the Rings. I loved the setting. I loved the characters. I loved the cinematography, and I loved the story. I learned to love Tolkien through film and not through his books;and I believe that it is okay to admit that we find movies to be literature, on their own terms.
When I watch a movie, the actors and actresses become the actual characters of the book. Don't ever try to convince me that Ian McKellen is not the one, true Gandalf the Grey.
Before I watched Selma Hayek play Frida Kahlo on the screen, I had seen Frida Kahlo paintings for decades. Yet, after watching Frida, Selma Hayek has become Frida Kahlo, in my mind.
Because of the movie Out of Africa, Meryl Streep has become Isak Dinesen to me.
And because of her portrayal in the 2005 movie Pride & Prejudice, Kiera Knightley has become all of Jane Austen for me.
At times, a movie may not be absolutely true to an author's intent. Truman Capote had wanted Marilyn Monroe to play the part of Holly Golightly in the movie Breakfast at Tiffany's. In the book, Capote describes Holly as having albino blonde hair. Because I am responsible for picking the book-movie selections for my club, I watch every movie-book combo that I can find, and in most cases, I watch the movie before I read the book. That was the order with my experiencing Breakfast at Tiffany's. I was stunned to read that Holly Golightly was supposed to have blonde hair. In my opinion, Audrey Hepburn is the quintessential Holly Golightly, and in my opinion, the movie would have been less effective with Marilyn Monroe.
"It was a warm evening, nearly summer, and she wore a slim cool black dress, black sandals, a pearl choker. For all her thinness, she had an almost breakfast-cereal air of health, a soap and lemon cleanness, a rough pink darkening in the cheeks. Her mouth was large, her nose upturned. A pair of dark glasses blotted out her eyes. It was a face beyond childhood…. I thought her anywhere between sixteen and thirty, as it turned out, she was shy two months of her nineteenth birthday." p. 12
"She was never without dark glasses, she was always well-groomed, there was a consequential good taste in the plainness of her clothes….One might have thought her a photographer's model, perhaps a young actress…." p. 14
"I discovered, from observing the trash-basket outside her door, that her regular reading consisted of tabloids and travel folders and astrological charts; that she smoked an esoteric cigarette called Picayunes; survived on cottage cheese and melba toast…." p. 15
"Also she had a cat and she played the guitar.
"On days when the sun was strong, she would wash her hair, and together with the cat, a red-striped tom, sit out on the fire escape thumbing a guitar while her hair dried." p. 16.
Breakfast at Tiffany's is a movie that was released in 1961. It is based on Truman Capote's novella by the same name.
Most of us know that Audrey Hepburn made fashion history in the black dress and sunglasses that she wore in the film. Like most people, I have long associated the fashion staple the little black dress with Audrey Hepburn and the movie Breakfast at Tiffany's, and when I as a child, I memorized the theme song "Moon River" and learned to play it on several instruments. In many ways, I grew up with Breakfast at Tiffany's and I could have sworn that I had seen the movie before, but until recently, I had not.  I decided that I needed to correct that mistake, and I am glad that I did.
"The song 'Moon River' was written especially for Audrey Hepburn, since she had no training as a singer. The vocals were written to be sung in only one octave. The famous black dress worn by Audrey Hepburn in the opening scenes of this movie was sold for $807,000 on December 4, 2006 at Christie's Auction House in London, making it the second most expensive piece of movie memorabilia ever sold." Read More Here
"Tiffany's flagship store (since 1940) is located at the corner of Fifth Avenue and 57th Street in Manhattan, New York City. The former Tiffany and Company Building on 38th Street is on the U.S. National Register of Historic Places. The polished granite exterior is well known for its tiny window displays. The store has been the location for a number of films including Breakfast at Tiffany's, Sweet Home Alabama and Sleepless In Seattle." Read More Here
To a large extent, Breakfast at Tiffany's is Capote's story of having lived,  as a writer, in New York City.
"I am always drawn back to places where I have lived, the houses and their neighborhoods. For instance, there is a brownstone in the East Seventies where, during the early years of the war, I had my first New York apartment. It was one room crowded with attic furniture, a sofa and fat chairs upholstered in that itchy, particular red velvet that one associates with hot days on a train. The walls were stucco, and a color rather like tobacco-spit. …The single window looked out on a fire escape. Even so, my spirits heightened whenever I felt in my pocket the key to this apartment; with all its gloom, it still was a place of my own, the first, and my books were there, and jars of pencils to sharpen, everything I needed, so I felt, to become the writer I wanted to be.
"It never occurred to me in those days to write about Holly Golightly…." – Truman Capote –Breakfast at Tiffany's page 3
"Outside, the rain had stopped, there was only a mist of it in the air, so I turned the corner and walked along the street where the brownstone stands. It is a street with trees that in the summer make cool patterns on the pavement; but now the leaves were yellowed and mostly down, and the rain had made them slippery, they skidded underfoot. The brownstone is midway in the block, next to a church were the blue tower-clock tolls the hours." Breakfast at Tiffany's, p. 10
In 1961, I was 11-years-old, and I was growing up in rural Southeast Missouri–which is a world away from New York City. I did not visit New York City until 2010, and in an odd way, I am glad that I did not watch Breakfast at TIffany's until after I had become familiar with the Big Apple. My current home is very close to New York, and I visit the city often. As the film opens, a cab makes its way from Tiffany's to Holly's apartment, and it follows a route along what has become my favorite walkway in NYC. Breakfast at Tiffany's was filmed over half a century ago, the New York City that it captures is very much the same now as it was then, and I loved seeing NYC captured in the film.
Central Park is one of my very favorite places, and part of Breakfast at Tiffany's is filmed there.
Bandshell, Central Park (from 66th to 72nd Street) Manhattan
Conservatory Water, Central Park (from 72nd to 75th Street) Manhattan.
"That Monday in October, 1943. A beautiful day with the buoyancy of a bird. …
"We ate lunch at the cafeteria in the park Afterward, avoiding the zoo (Holly said she couldn't bear to see anything in a cage)…. Leaves floated on the lake; on the shore, a park-man was fanning a bonfire of them, and the smoke, rising like Indian signals, was the  only smudge on the quivering air Aprils have never meant much to me, autumns seem that season of beginning, spring;; which is how I felt sitting with Holly on the railings of the boathouse porch. I thought of the future, and spoke of the past. Because Holly wanted to know abut my childhood. She talked of her own, too; but it was elusive, nameless, placeless, an impressionistic recital, though the impression received was contrary t what one expected, for she gave an almost voluptuous account of swimming and summer, Christmas trees, pretty cousins and parties: in short, happy in a way that she was not, and never, certainly, the background f a child who had run away." p. 51
'Passing a Woolworth's, she gripped my arm: 'Let's steal something,' she said, pulling me into the store, where at once there seemed  a pressure of eyes, as though we were already under suspicion. 'Come on,. Don't be chicken.' She scouted a counter pied with paper pumpkins and Halloween masks. … Holly picked up a mask and slipped it over her face; she chose another and put it on mine; then she took my hand and we walked away. It was as simple as that.
"Outside, we ran a few blocks, I  think to make it more dramatic….p. 52
"We wore the masks all the way home." p. 53.
During the early part of the film, Cat is the only character who wasn't wearing a mask. But the true monsters of the film are its rats, and the depth of the movie revolves around Holly's discoveries about them.
Holly's goodbye letter from Jose:
"My dearest little girl, I have loved you knowing you were nt as others. But conceive of my despair upon discovering in such a brutal and public style how very different you are from the manner of woman a man of my faith and career could hope to make his wife. … So I hope you will find it in your heart not to condemn me I have my family to protect, and my name, and I am a coward where those institutions enter. Forget me, beautiful child. I am no longer here I am gone home." p. 94
"All right, he's not a rat without reason. A super-sized King Kong-type rat like Rusty…. I did love him. The rat" p. 94
"All right — so he's not a regular rat, or even a super rat. He's just a scared little mouse. But — oh, golly, gee, damn!" Movie quote
Neither the book nor the movie are perfect. The book is plagued with politically incorrect references to "dykes" and "les negres," and the movie suffers from some very weak scenes in which Mickey Rooney poorly plays a China Man. Those scenes are embarrassingly inappropriate now.
I'm glad that I stuck with the film through the rough patches, however, and into the relationship that develops between Hepburn and George Peppard. This relationship and Holly's struggles with "the Reds" is the meat of the film.
Holly Golightly: You know those days when you get the mean reds?
Paul Varjak: The mean reds, you mean like the blues?
Holly Golightly: No. The blues are because you're getting fat and maybe it's been raining too long, you're just sad that's all. The mean reds are horrible. Suddenly you're afraid and you don't know what you're afraid of. Do you ever get that feeling?
Paul Varjak: Sure.
Holly Golightly: Well, when I get it the only thing that does any good is to jump in a cab and go to Tiffany's. Calms me down right away. The quietness and the proud look of it; nothing very bad could happen to you there. If I could find a real-life place that'd make me feel like Tiffany's, then – then I'd buy some furniture a give the cat a name!
"Angst. But what do yu do about it?"
"Well, a drink helps."
"I've tried that. I've tried aspirin, too…
"What I've found does the most good is just to get into a taxi and go to Tiffany's It calms me down right away,  the quietness and the proud look of it: nothing very bad could happen to you there, not with those kind men in their nice suits, and that lovely smell of silver and alligator wallets. If I could find a real-life place like Tiffany's then I'd buy some furniture and give the cat a name." p. 38.
"Didn't I tell you this was a lovely place?"
"Do they still really have prizes in Cracker Jack boxes?" "…Oh; yes." "That's nice to know… It gives one a feeling of solidarity, almost of continuity with the past, that sort of thing."
[I don't want to completely destroy the film for people who haven't seen it yet, but the message lies within Holly Golightly's attempts to deny what is and is not valuable in life. Because of the honest way that Capote created Holly Golighty, Breakfast at Tiffany's is much more than Romantic Comedy [a genre that I usually detest]. For several minutes into the film, I thought that the movie was going to be silly, but by the end, I was in tears. Holly Golightly is a well-developed character. She is a hayseed who has escaped to New York City and who is caught in the fruitless snare of trying to play the part of someone that she can never be.]
"…the kid's fifteen But stylish: she's okay, she comes across. Even when she's wearing glasses this thick; even when she opes her mouth and you don't know if she's a hillbilly or an Okie or what. I still don't. My guess, nobody'll ever know where she came from. She's such a goddamn liar, maybe she don't know herself any more. But it took us a year to smooth out that accent. How we did it finally, we gave her French lessons: after she could speak French, she could imitate English." p. 30.
"But Doc, I'm not fourteen anymore, and I'm not Lulamae. But the terrible part is (and I realized [p. 69] it while we were standing there) I am. I'm still stealing turkey eggs and running through a brier patch. Only now I call it having the mean reds" pgs 69-70.
"Never love a wild thing….That was Doc's mistake. He was always lugging home wild things. A hawk with a hurt wing. One time it was a full-grown bobcat with a broken leg. But you can't give your heart to a wild thing: the more you do, the stronger they get Until they're strong enough to run into the woods. Or fly into a tree. Then a taller tree. Then the sky. That's how you'll end up…if you love a wild thing. You'll end up looking at the sky.
. . .
"…it's better to look at the sky than live there. Such an empty place; so vague. Just a country where the thunder goes and things disappear." p 70
"No matter where you run, you just end up running into yourself."
If you have Amazon Prime, you can watch the movie Breakfast at Tiffany's and several other related features free Here.
"She's a phony. But she's a real phony. You know why? Because she honestly believes all this phony junk that she believes."
"Promise me one thing: don't take me home until I'm drunk — very drunk indeed."
Holly Golightly's relationship with Peppard develops slowly:
"For I was in love with her. Just as I'd once been in love with my mother's elderly clred cook and a postman wh let me follow him on his rounds and a whole family named McKendrick That category of love generates jealousy, too." p. 72
"Those final weeks, spanning end of summer and the beginning of another autumn, are blurred in memory, perhaps because our understanding of each other  had reached that sweet depth where two people communicate more often in silence than in words: an affectionate quietness replaces the tensions, the unrelaxed chatter and chasing about that produce a friendship's more showy, more in the surface sense, dramatic moments. … we spent entire evenings together during which we exchanged less than a hundred words; once, we walked all the way to Chinatown [p. 79] … then moseyed across the Brooklyn Bridge, and on the bridge, as we watched seaward-moving ships pass between the cliffs of burning skyline….
"So the days, the last days, blow about in memory, hazy, autumnal, all alike as leaves: until a day unlike any other I've lived.
"The stables–I believe they have been replaced by television studios–were on West Sixty-sixth Street. Holly selected for me an old sway-back black and white mare: 'Don't worry, she's safer than a cradle.'" p. 82
I have watched Breakfast at Tiffany's repeatedly now, and every time "Moon River" begins to play, I get cold chills. I love the way that the film opens on a surrealistically empty New York City Fifth Avenue, and the way the the taxi cab drives you down to Holly Golightly's apartment. I have walked that same route so many times that i have nearly memorized it, and the book does allow you glimpses into Manhattan and NYC, but the movie is distinguished from the book in the way that t ends with the cat: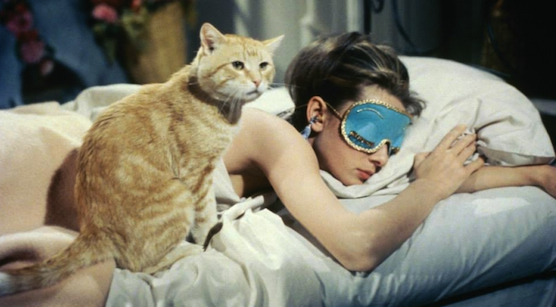 "She was still hugging the cat. 'Poor slob,' she said, tickling his head, 'poor slob without a name. But I haven't any right to give him one: he'll have to wait until he belongs to somebody. We just sort of took up by the river one day, we don't belong to each other: he's an independent, and so am I. I don't want to own anything until I know I've found the place where me and things belong together I'm not quite sure where that is just yet. But I know what it's like.' She smiled, and let the at drop to the floor. 'It's like Tiffany's,' she said." p. 37
[Holly Golightly decides to run away from all of her troubles and asks her writer friend [the George Peppard character] to
gather her belongings and cat and to bring them to the bar, for her escape].
"The sky was red Friday night, it thundered, and Saturday, departing day, the city swayed in a squall-like downpur. Sharks might have swum through the air…." p.. 98
"Stumbling skidding up and down the fire escape between Holly's apartment and mind, wind-blown and winded and wet to the bone (clawed to the bone as well fr the cat had not looked favorably upon evacuation, especially in such inclement weather) I managed a fast, first-rate job of assembling her going-away belongings. I even found the St. Christopher's medal. Everything was piled on the floor of my room, a poignant pyramid of brassieres and dancing slippers and dancing slippers and pretty things I packed in Holly's only suitcase. There was a mass left over that I had to put in paper grocery bags I couldn't think how to carry the cat; until I thought of stuffing him in a pillowcase.
"Never mind why, but once I walked from New Orleans to Nancy's Landing, Mississippi, just under five hundred miles. It was a light-hearted lark compared to the journey to Joe Bells bar The guitar filled with rain, rain softened the paper sacks, the sacks split and perfume spilled on the pavement, pearls rolled in the gutter: [p. 99] while the wind pushed and the cat scratched, the cat screamed–but worse, I as frightened, a coward t equal Jose: those storming streets seemed aswarm with unseen presences waiting to trap, imprison me for aidng an outlaw."
. . .
And the cat, released, leaped and perched on her shoulder: his tail sung like a baton conducting rhapsodic music. Holly, too, seemed inhabited by melody, some bouncy bon voyage ompahpah." p. 100
. . .
"…and we pulled to the curb of a street in Spanish Harlem. A savage, a garish, a moody neighborhood garlanded with poster-portraits of movie stars and Madonnas. Side-walk litterings of fruit-rind and rotted newspaper were hurled about by the wind, fr the wind still boomed, [p.101] though the rain had hushed and there were bursts of blue in the sky.
"Holly stepped out of the car; she took the cat with her. Cradling him, she scratched his head and asked. 'What do you think? This ought to be the right kind of place for a tough guy like you. Garbage cans. Rats galore. Plenty of cat-bums to gang around with. So scram,' she said, dropping him, and when he did not move away, instead raised his thug-face and questioned her with yellowish pirate-eyes, she stamped her foot: 'I said beat it!'
. . .
"I was stunned 'Well, you are. You are a bitch.' " p. 102
"…Where's the cat?"
"Oh, cat." [How the movie ends, but not how the book ends]
Breakfast at Tiffany's is not a GREAT book, and it is not a GREAT movie either. But because I had connected with the movie, I read the book, and I liked them both. The movie's cat scene is unforgettable, and it is definitely the part of the movie where I knew that the movie "had" me.
Breakfast at Tiffany's the movie was released at a time when there were only a few super movies. Gone with the Wind and The Wizard of Oz were exceptions to that rule. I read Margaret Mitchell's book Gone with the Wind when I was 16, and I enjoyed it, but I loved the movie. I am still trying to wade through reading the books of The Wizard of Oz, but I have watched the movie numerous times. I credit The Wizard of Oz with helping me become the person who I have become. When I was a young child, I watched that movie with my dad and when I was a young child, I learned how to distill the magic that runs parallel to existence. When I was a little girl, my third grade teacher gave me my own copy of the book Louisa Mae Alcott. It was a biography, and it was the first real book that I had owned. No doubt, that book and that teacher changed my life, but it is through the movies along my way that I have discovered magic.
©Jacki Kellum August 30, 2017