I have heard that when a tree stops growing, it begins to die, and as I enter the third year of remodeling my kitchen, I need to believe that the same thing is true of people who remodel houses.  I need to believe that if I ever complete my remodeling project, I'll die of boredom. Oddly, I somehow need to entertain that thought because I am certainly not finishing my remodeling anytime soon
Three years ago, I had a small, constrictive kitchen which had countertops that were a weird color of blue, and they were accented by a rolled linoleum floor that matched.
The house was built in 1950, and it still had the tacky aluminum windows, but the worst problem was that a wall stood between the tiny 10′ x 10′ kitchen and the tiny dining room on the other side.
A couple of times, I considered selling my house and I briefly listed it. Once would-be-buyers saw my blue kitchen, their expressions would sour and within minutes, they were out the door and off to look at someone else's house. I realized that a kitchen re-do was eminent. With sledge hammer in hand, I myself knocked down the wall between the old kitchen and dining room, but I had no idea how I would ever afford to replace what I had destroyed.
Not realizing how long the remodeling process would take, I donated my appliances to Goodwill, and for a full year, I had no stove or kitchen sink. I cooked with a crock pot, a microwave, and an electric skillet. Finally, I bought a few cabinets, and I had my old sink installed in my family room/bar, which is a few steps down from the kitchen.
If you were standing in this spot three years ago, there would be a wall in your face. While my remodeling job has been a long and tedious process, I am beginning to move into the last phase toward getting a new and 21st century kitchen.
In another post, I tell about how my getting a new kitchen is a miracle from start to near-finish: http://www.jackikellum.com/my-kitchen-is-almost-complete-story-of-a-miracle/
Some lovely neighbors knew that I needed a new kitchen, and they gave me their kitchen that they were replacing in their home. They even gave me the sink, faucet, garbage disposal, dishwasher, and a to-die-for 48″ Five Star range and hood.
As things have a way of doing, however, I have run into some problems along the way. "The Lord giveth and he taketh away." — But remember that He giveth back again and again.
Several months ago, I had to replace my 1960's white and disgusting refrigerator.  In that instance, my loss was a win-win [notwithstanding the money that I had to spend].
As the boys wheeled my shiny, new fridge into my house, I thought to myself: "This is the first new refrigerator that I have ever owned, and it is my first stainless steel refrigerator, too. I have finally graduated from white."
During my entire life, I have never lived in a newly built house; therefore, every time that I have moved into a house, a used refrigerator came with the used home. Although I have found it necessary to replace my fridges before, this was the first time that I have actually gone to the store and bought a new one. I was  66-years-old, and for the first time in my life, I had a brand new refrigerator–a stainless steel refrigerator–and one that had no scratches or dents.
As I stood and admired my new fridge and the beginning of my new kitchen, I considered how differently that I might have viewed the buying of a new refrigerator if I had been privy to tons of new appliances before now–and if during my lifetime, I had never actually wanted anything. Had that been the case, I would probably have been irritated by the minor hassle that replacing an old, dead appliance had caused, and when I watched my new refrigerator rolling through my door, I would probably have experienced very little pleasure at all. Instead, I would have thought: "Easy come, easy go, It's just a new appliance. It's no big deal."
But that was not the way that the refrigerator scenario played out for me.
The saga continues: My range died last week, and only today someone came and hauled it and its matching hood away. While I am sorry to lose those treasures, I count myself fortunate in that I didn't have to pay to have the 48″ commercial range hauled away. It was a piece of equipment of grand-piano size and weight.  Things could have been worse, and the thing died before I had paid to have it built into my new kitchen. My range had died in the nick of time.
I have used the last of my currently available funds,  and have bought myself a mini version of the gas range that I had before.  The GE 30″ Gas Range: JGBS66REKSS
"If you're in the midst of a remodel and looking for a simple, affordable gas range that delivers where it counts, you could do far worse than the 30-inch GE JGBS66REKSS(MSRP $749). We spent some time with this freestanding range in testing labs, and after cooking on it and putting it through our usual barrage of tests we've determined that it's one of the best gas ranges you can get for under $700 Read More Here
My new range only has 4 burners, but I only need 1 burner to make a cup of tea. "My cup runneth over."
Like the commercial outfit that just failed, my new range does have a  griddle, and it has its own burner.
I probably won't use the griddle. I'm a bit untidy, and I might let the bacon grease become a problem, but I do like the fact that the burner covers are dishwasher safe: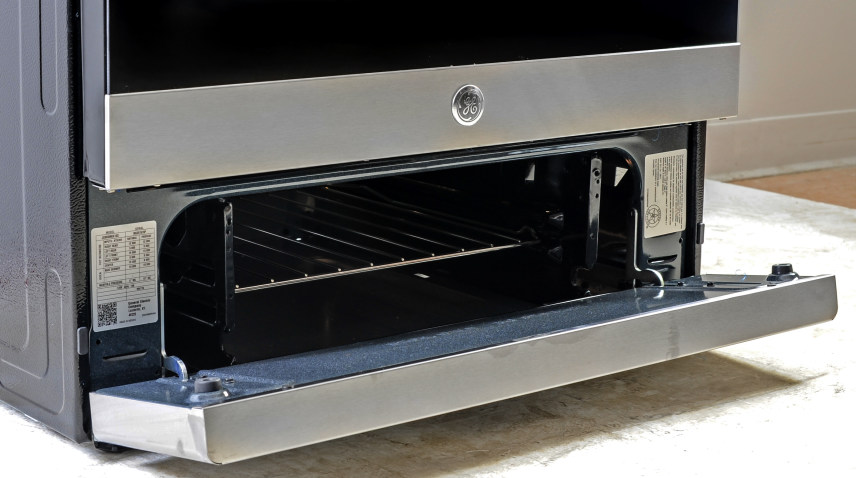 And my new range has a broiler at the bottom.
But the thing that I like most about my new set up is that the burners have a variety of heat intensities. My former range could only burn hottest and hotter-than-hell. With the range that I just sent packing, it was almost impossible to fry an egg the way that I like eggs fried. As I said before: "The Lord taketh away and He giveth back again and again"
I won't be able to install the hood for a few months, but hey, I would be confused if I actually finished this project.
My friends gave me enough marble for all of the countertops.
My back splash is Old Chicago Brick
 Old Chicago Brick
And I hope to enclose the range and hood within bricks, sort of like this -but  don't want to block my access to my countertop on the right side:
The people who gave me the stuff to create my new kitchen are more elegant than I am. Their kitchen is as big as half my entire house, but I am using their cabinets and marble in more than one room, and to add my own stamp, I am doing several things [like the ld brick] to give my kitchen the French-rustic look that I like. French Rustic or Country French is sort of the best of 2 worlds.
As  I get to the point of almost having finished the kitchen, I have begun working in the breakfast room, where I am going for  the exposed-rafters look. We are using foam, sheet insulation here. The foam insulation looks a bit like sheetrock, and it won't take much room . We are topping the insulation with rough, cedar, tongue and groove. I want the finished ceiling over the breakfast room to look like it looks now. I want it to appear that you see the roof boards above the ceiling joists.
Remodeling with a very tight budget is a hassle and this will sound odd, but I am happy that I don't always  have everything that I want. I am even happy that I don't have everything that I need, and I am happy that I have learned how to wait. The wanting and the waiting make me more appreciative when I actually receive.
For what I have received may the Lord make me truly thankful. And more truly for what I have not received. – Storm Jameson
Things could be quite different for me now that I am older and retired. I could have NOTHING left to want and there could be Nothing left that would make my day. Thank goodness, that is not the case for me. It doesn't take much at all to turn my life into a party.
A lot of people my age are a bit like Charlie Brown in the above photo. They have quit growing and like trees that aren't growing, they have begun to wither and are waiting to die. In learning to wait for my kitchen to take place, I have learned to be like Snoopy. I have learned to be thankful for the every-days that contintue to come my way.
©Jacki Kellum September 2, 2017