It is no secret that I love British movies and television like Downton Abbey, Masterpiece Theater, and just about any British crime show.  British period dramas like the Borgias, The White Queen, Victoria, The Crown, Elizabeth, and The Tudors are the epitome of costuming and cinematography. The Brits seem to have mastered the art of fine dramatic programming, and because of its palaces and its history of royalty, England has managed to preserve much of its fairy-tale like aura and magnetism. I should not be surprised that my favorite cooking programs come from England, too, but the best of the British cooking programs is not actually on television. It is part of the University of Reading's free programming, and it can be accessed on YouTube or better still, through a free MOOC offered by FutureLearn Here.
A History of Royal Food and Feasting Is More Than A Cooking Program. Because It Involves Footage from the Castles of five British Monarchs, It Is A Flavorful Way to Step Back Into England's Royal Past.
"From the Tudors to the 20th century you'll join expert historians, curators and food scientists from the University of Reading and Historic Royal Palaces, and indulge in the changing tastes of successive generations of royalty and experience the splendour of their palaces. We'll take an intimate look behind the scenes at some of the most incredible palaces in England:"
Henry VIII at Hampton Court
Elizabeth I at the Tower of London
George I at Hampton Court Palace
George III at Kew Palace
Victoria at Kensington Palace
Hampton Court Palace of Henry VIII
Interior Hampton Court Palace
Chapel at Hampton Court Palace
In all honesty, I don't normally watch cooking programs. I simply do not normally like them, but I am fascinated by history, and I loved the way that A History of Royal Food and Feasting brings British history to life. The free class is designed to be enjoyed over five weeks, but I completed the entire course in a weekend. Here is a sample of what the course offers and a bit of what I learned about Henry VIII, his palace at Hampton Court, and food during his lifetime.
Kitchen at Hampton Court Palace – 36,000 square feet
Henry VIII's Kitchen may have contained as many as 55 separate rooms. There were boiling rooms and even rooms for preparing the laundry in the kitchen area, which filled 36,000 square feet.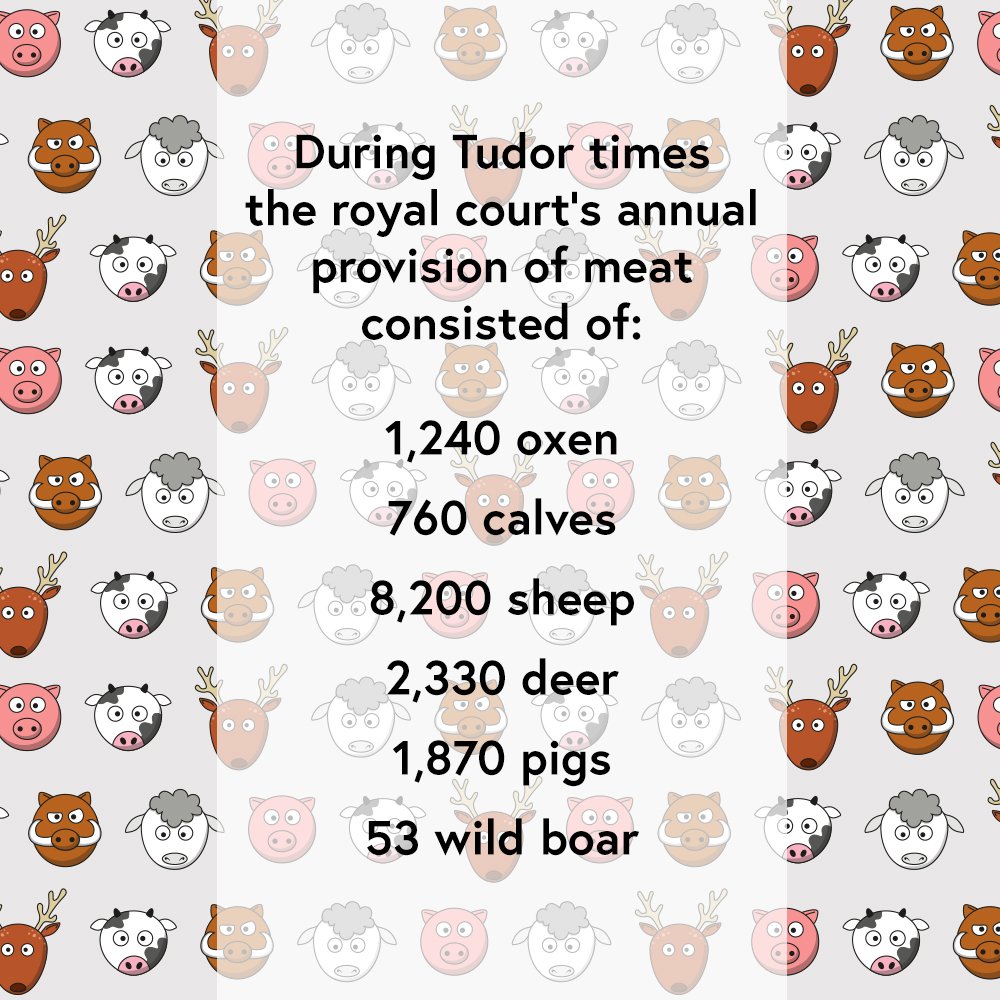 While studying about each of the monarchs and their kitchens, participants in the class are provided with numerous videos and recipes and recipe cards.
Recipe for Ryschewys close and fryez: A Small, Fried Fruit Pie
Ingredients: to make 12
For the filling:
3 dried figs
3 chopped dates
A table spoon of currants
Half a teaspoon of mace
Half a teaspoon of black pepper
Half a teaspoon of canelle
For the paste:
100g (3.5 ounces) flour
A dessert spoon of sugar
A pinch of saffron dissolved in half a teacup of water
Instructions:
Pound the figs in a mortar
Add the dates and currants and pound some more
Finely chop, grind and mix the spices – should be balanced, so if you can smell one stronger than the others, add more of them to compensate
Add the spices to the dried fruit and mix thoroughly
Make a paste from the flour, sugar and saffron water
Roll out the paste as thin as paper – a little goes a long way in this recipe
Cut out small circles – about a teacup size
Add a small amount of the fruit mix – about half a tablespoon
Damp the edges of the paste with water and close forming a pea-pod shape
Shallow fry in oil (or in a deep fat fryer) for a couple of minutes or until golden brown
Serve warm, sprinkled in sugar
Tart Out of Lent

Ingredients: to make 6-8 portions
For the filling
100g (3 ½ ounces) Cheshire cheese
150ml (¼ pint) cream
1 medium sized egg
30g (1 ounce) butter
Salt and pepper
For the pastry case
Any high butter pastry, such as shortcrust, will do
Egg yolks for glazing
Instructions:
Chop the cheese and then pound in a mortar
Add cream, egg and butter and mix together to make a thick cream (about the consistency of Cottage Cheese – add more cream if too dry, more cheese if too wet)
Season with salt and pepper to taste
Make a pastry tart case, about 25cm (10inches) diameter – you can use a tart tin if easier – and thin pastry lid
Fill with cheese, cream, egg and butter mixture
Put on pastry lid – seal and glaze with egg yolks
Bake at 220°C/gas mark 6 for 40 minutes or until golden
Allow to cool a little and serve
Recipe for Tart Photo Credits Future Learn Here:
Misconceptions about Foods Served at Henry VIII's Court
Henry VIII's kitchen staff did not use spices to hide the taste of fouled meat. Serving 600 -1200 people twice each day, food rarely had time to sour, and if that happened, it would not have been used. Henry VIII's kitchen only served the finest of foods, and spices were used as an expensive garnish.
Beer was not drunk because fresh water was not available at Hampton Court, where fresh water was piped from the springs at Coombe Hill, which was three miles away.
Henry VIII was a dainty eater and the only one who had a fork at meal time. Eating at Henry VIII's court was not a crude and rowdy affair.
Code of Manners for Meal Time at Henry VIII's Hampton Court
Sit not down until you have washed.

Undo your belt a little if it will make you more comfortable; because doing this during the meal is bad manners.

When you wipe your hands clean, put good thoughts forward in your mind, for it doesn't do to come to dinner sad, and thus make others sad.

Once you sit place your hands neatly on the table; not on your trencher, and not around your belly.

Don't shift your buttocks left and right as if to let off some blast. Sit neatly and still.

Any gobbit that cannot be taken easily with the hand, take it on your trencher.

Don't wipe your fingers on your clothes; use the napkin or the 'board cloth'.

If someone is ill mannered by ignorance, let it pass rather than point it out. 

– recorded by the Dutch Writer, Desiderius Erasmus, who published his De Civitate in 1534-
This is a mere sampling of what I took away from the free MOOC A History or Royal Food and Feasting. The next class starts November 8–just in time to begin thinking about what you will prepare for your holiday meals. Although I have participated in numerous free MOOC learning experiences, this was my favorite. It should appeal to almost everyone. Register at FutureLearn Here.