William Wordsworth was an English poet who wrote during the Romantic era of British Literature. He is quite often described as a nature poet, and he himself established that his poetry was primarily concerned with nature. His poem  Composed Upon Westminster Bridge is one of his poems about nature. It may not be widely known that Wordsworth's sister Dorothy wrote about the poetic moment at Westminster Bridge in her journal, and she wrote it three months before Wordsworth turned the prose of the occasion into poetry.
I discuss Found Poems Here, where I say that in "finding" a poem, we take words from another person's writing and we spin them a bit differently into our own poem.
Wordsworth's sister wrote about the experience at Westminster Bridge in her journal as follows:
"we left London on Saturday morning at 1⁄2 past 5 or 6, the 31st July (I have forgot which) we mounted the Dover Coach at Charing Cross. It was a beautiful morning. The City, St pauls, with the River & a multitude of little Boats, made a most beautiful sight as we crossed Westminster Bridge. The houses were not overhung by their cloud of smoke & they were spread out endlessly, yet the sun shone so brightly with such a pure light that there was even something like the purity of one of nature's own grand Spectacles"
Dorothy Wordsworth (1771-1855), The Grasmere Journal, 31 July 1802
Months later, Wordsworth wrote a poem about the same experience:
Composed Upon Westminster Bridge, September 3, 1802
Earth has not anything to show more fair:
Dull would he be of soul who could pass by
A sight so touching in its majesty:
This City now doth, like a garment, wear
The beauty of the morning; silent, bare,
Ships, towers, domes, theatres, and temples lie
Open unto the fields, and to the sky;
All bright and glittering in the smokeless air.
Never did sun more beautifully steep
In his first splendour, valley, rock, or hill;
Ne'er saw I, never felt, a calm so deep!
The river glideth at his own sweet will:
Dear God! the very houses seem asleep;
And all that mighty heart is lying still.
---
Wordsworth's poem is not literally a "Found" poem. He actually reused few of his sister's words, but he did recapture or "find" an emotion that she had expressed before he did. I think that this is interesting. The following video describes a bit more of the relationship between Wordsworth and his sister. It also causes me to wonder about how much more Dorothy may have been involved in William's writing.
In his Preface to his book Lyrical Ballads, Wordsworth says over and over that a Poet is a Man. We now realize that Dorothy was also a significant writer. I have no grounds to support my thought, but I wonder if the Poet in the Wordsworth house was also a woman and whether Wordsworth was occasionally her "beard."
During the Wordsworths' lives, women were not encouraged to be writers. That is why Mary Anne Evans published under the pen name of George Eliot. Although numerous paintings were made of William Wordsworth, all that remains of Dorothy's likeness is a shadowy silhouette.
"Dorothy Wordsworth's journals are a unique record of her life with her brother William, at the time when he was at the height of his poetic powers. Invaluable for the insight they give into the daily life of the poet and his friendship with Coleridge, they are also remarkable for their spontaneity and immediacy, and for the vivid descriptions of people, places, and incidents that inspired some of Wordsworth's best-loved poems. The Grasmere Journal was begun at Dove Cottage in May 1800 and kept for three years. Dorothy notes the walks and the weather, the friends, country neighbors and beggars on the roads; she sets down accounts of the garden, of Wordsworth's marriage, their concern for Coleridge, the composition of poetry. The earlier Alfoxden Journal was written during 1797-8, when the Wordsworths lived near Coleridge in Somerset. Not intended for publication, but to "give Wm Pleasure by it," both journals have a quality recognized by Wordsworth when he wrote of Dorothy that "she gave me eyes, she gave me ears." Image and Review from Amazon Here
Available from the Folio Society Here
In the Folio Society edition of the Grasmere Journal, the following was written, along with the following image:
"Dorothy lived a very independent and free life in Grasmere and she would spend her time walking for miles," Bennett says. "Reading her journal, it is evident that she took great joy in experiencing and recording the world around her." Bennett's favourite passage is from near the end of the journal, where Dorothy describes a quiet moment looking over Grasmere with Mary, her brother's wife:
I was much affected when I stood upon the second bar of Sara's Gate. The lake was perfectly still, the sun shone on Hill and vale, the distant Birch trees looked like large golden Flowers – nothing else in colour was distinct and separate but all the beautiful colours seemed to be melted into one another, and joined together in one mass so that there were no differences though an endless variety when one tried to find out.
As most are aware, one of Wordsworth's most famous poems is "Daffodils."
The Daffodils
William Wordsworth, 1770 – 1850
I wandered lonely as a cloud
That floats on high o'er vales and hills,
When all at once I saw a crowd,
A host, of golden daffodils;
Beside the lake, beneath the trees,
Fluttering and dancing in the breeze.
Continuous as the stars that shine
And twinkle on the Milky Way,
They stretched in never-ending line
Along the margin of a bay:
Ten thousand saw I at a glance,
Tossing their heads in sprightly dance.
The waves beside them danced, but they
Out-did the sparkling waves in glee:
A Poet could not but be gay,
In such a jocund company:
I gazed—and gazed—but little thought
What wealth the show to me had brought:
For oft, when on my couch I lie
In vacant or in pensive mood,
They flash upon that inward eye
Which is the bliss of solitude;
And then my heart with pleasure fills,
And dances with the daffodils.
"I took a lot of inspiration from the way she describes colour here to incorporate into the illustrations," Bennett says, revealing she spent "a long time" tracking down Sara's Gate so she could paint it. "It is a great example of Dorothy's ability to capture a moment in time….
"Between days wandering the countryside, Bennett researched in Dove Cottage and the Wordsworth Museum next door. Inside the museum, Bennett was able to examine one of the original journals. The manner in which Dorothy wrote – frequent amendments, crossings-out and ink splodges – were incorporated into her illustrations.
"The cottage was actually a lot smaller than I imagined [because of] the number of visitors the Wordsworths had," Bennet says. "You can really picture Dorothy in the kitchen baking or working in the orchard. They led a simple but very full and vibrant life. I loved that visitors can still enjoy seeing Coleridge's stone step in the garden, William's chair and the Rock of Names."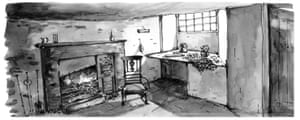 "Illustrating The Grasmere Journal gave Bennett a fresh appreciation of the quality and weight of Dorothy's writing, outside the shadow of her more famous sibling. "Dorothy did not just play an influential role in William's life: she also led an extraordinary life for a woman of her time and was clearly a gifted writer," she says. "I believe she was a kind and contemplative person who lived for the simple things in life and greatly appreciated the awe of nature. It was an absolute pleasure to illustrate her words – she was an independent thinker, a beautiful writer. Quietly brilliant."
Other illustrations from the Folio Society edition:
Dorothy Wordsworth Also Published "Recollections of a Tour Made in Scotland, A. D. 1803 (1874)
"A late 19th-century painting of a jaunting car similar to the one used by Dorothy, William and Samuel. Because of the poor roads "in practice it meant going most of the way by foot. The car was purchased by Samuel Taylor Coleridge."
"Recollections of a Tour Made in Scotland, A. D. 1803 (1874) is a travel memoir by Dorothy Wordsworth about a six-week, 663-mile journey through the Scottish Highlands from August–September 1803 with her brother William Wordsworth and mutual friend Samuel Taylor Coleridge. Some have called it "undoubtedly her masterpiece"[1] and one of the best Scottish travel literature accounts during a period in the late 18th and early 19th centuries which saw hundreds of such examples.[2″…
"Dorothy wrote Recollections for family and friends and never saw it published in her lifetime.
"…Dorothy wrote Recollections for family and friends and never saw it published in her lifetime.
"Venturing to Scotland in 1803 was not an easy trip and the thirty-year-old Dorothy would experience much of the rougher nature of Scottish life. Scotland had become depopulated in areas from emigration throughout the 18th century and the remaining rural Scots existed in a preindustrial lifestyle more reminiscent of the Middle Ages than modern times. The roads were poor and dangerous or mere cattle-paths requiring a local guide. Dorothy notes the road quality along each segment from "most excellent", "roughish", to "very bad" to "wretchedly bad". Finding a place to sleep meant finding a public house along the road, which could range from a pleasant inn by English standards, to a dirty and smoky peasants hut with no glass windows nor chimney and a dirt floor. More than once the Wordsworths were refused a room for the night [ such as the Arrochar Hotel] after dark in the rain with miles to the next town; however this was contrasted by the kindness and generosity of others, the MacFarlane's at Loch Katrine.[7] Food in 19th century Scotland along the road ranged from boiled fowl and egg on the high end to whey and oat bread on the low end (or none at all in some cases), although "A boiled sheep's head, with the hair singed off" was a true Scottish fare savored.
"Most of the trip was in a jaunting car, an Irish open-air two-wheeled cart drawn by a single horse—which because of the poor roads in practice meant going most of the way on foot. Compared to the more fashionable chaise which other travelers took to Scotland, the jaunting car was a plain and exposed vehicle, which the Wordsworths preferred as they could be travelers instead of tourists and remain approachable to the people of Scotland. There was a central luggage box and two seats facing back to back in which the riders' feet were a foot off the ground.[6] As an Irish design, it was an unusual sight and brought a lot of attention along the way, in part because of rumors circulating at the time that Ireland might soon invade Scotland.[6]
Dorothy wrote the journal over a 20-month period starting in September 1803. "I had written it for the sake of Friends who could not be with us at the time".[6] Her friends admired her Recollections and it soon began to circulate and talk of publication became inevitable. In 1822 Dorothy put together a more refined version, she had lost the original and it was completed from memory, but a publisher was never located.[7] It would not be until 1874, nearly 20 years after her death in 1855, that John Campbell Shairp would publish it for the first time. It sold so well a second edition came soon after including one in the US. Then a third edition in 1894, and then another in 1897. In 1941 it was recognized again when Ernest de Selincourt published a new edition and deemed Recollections "one of the most delightful of all books of travel, and it is, undoubtedly her masterpiece.".[1] In 1997 Yale University Press published an edition by Carol Kyros Walker which is the current definitive edition with hundreds of photographs of Scotland, maps, footnotes and scholarly commentary.(6) There are further versions available including Recollections of a Tour Made in Scotland, A. D. 1803 revised second edition published 2014. This is a paperback with maps and color illustrations of the areas where Dorothy visited with William and Samuel Coleridge.(ISBN 978-0957344327 )
Image and text from Wikipedia Here
The Full Text of the 1874 Edition can be viewed Here
In his Preface to the 1874 Edition of Recollections, John Campbell Shairp confirmed something of what I had suspected about the extent of Dorothy's influence upon and possible involvement in William's writing: [Recollections, pg. xxi]
"He had a most observant eye, and she also for him; and his poems are sometimes little more than poetic versions of her descriptions of the objects which she had seen; and which he treated as seen by himself." Shairp, Recollections, pg. xxi.
Mary Hutchinson, who would become William's wife is credited with having added the following lines to the poem:
"They flash beyond that inward eye,
Which is the bliss of solitude."
Shairp, Recollections, pg. xxii.
Shairp notes the quality of Dorothy's writing in the following entry which describes a Birch tree:
"As we were going along we were stopped at once, at teh distance, perhaps, of fifty yards from our favourite birch-tree: it was yielding to the gust of the wind, with all its tender twigs; the sun shone upon it, and it glanced in the wind like a flying sunshiny shower. It was a tree in shape, with stem and brances, but it was like a spirit of water."
©Jacki Kellum September 5, 2016