Gutenberg Free Ebook The Christmas Carol Online Here
"Charles John Huffam Dickens (/ˈdɪkᵻnz/; 7 February 1812 – 9 June 1870) was an English writer and social critic. He created some of the world's best-known fictional characters and is regarded as the greatest novelist of the Victorian era.[1] His works enjoyed unprecedented popularity during his lifetime, and by the twentieth century critics and scholars had recognised him as a literary genius. His novels and short stories enjoy lasting popularity.[2][3]
"Born in Portsmouth, Dickens left school to work in a factory when his father was incarcerated in a debtors' prison. Despite his lack of formal education, he edited a weekly journal for 20 years, wrote 15 novels, five novellas, hundreds of short stories and non-fiction articles, lectured and performed extensively, was an indefatigable letter writer, and campaigned vigorously for children's rights, education, and other social reforms.
"Dickens's literary success began with the 1836 serial publication of The Pickwick Papers. Within a few years he had become an international literary celebrity, famous for his humour, satire, and keen observation of character and society. His novels, most published in monthly or weekly instalments, pioneered the serial publication of narrative fiction, which became the dominant Victorian mode for novel publication.[4][5] The instalment format allowed Dickens to evaluate his audience's reaction, and he often modified his plot and character development based on such feedback.[5] For example, when his wife's chiropodist expressed distress at the way Miss Mowcher in David Copperfield seemed to reflect her disabilities, Dickens improved the character with positive features.[6] His plots were carefully constructed, and he often wove elements from topical events into his narratives.[7] Masses of the illiterate poor chipped in ha'pennies to have each new monthly episode read to them, opening up and inspiring a new class of readers.[8]
"Dickens was regarded as the literary colossus of his age.[9] His 1843 novella, A Christmas Carol, remains popular and continues to inspire adaptations in every artistic genre." Wikipedia
A Christmas Carol is a novella
A novella is longer and more elaborate than a short story, but it is not as long or as detailed as a novel. A Christmas Carol has 28,944 words.
A Christmas Carol is divided into Staves
A Christmas Carol is designated as a carol or a musical piece–a prosaic musical piece. In many cases, novellas are not broken into chapters. A Christmas Carol is broken into staves. A stave is a musical staff.
Victorian Colloquialisms Used in The Christmas Carol
Mid-nineteenth-century English was somewhat different from the English we speak today — not in its usage but in its vocabulary. The following colloquialisms all come from A Christmas Carol:
Ebenezer: 'the stone of help' (I Samuel vii. 12); used as a name of a particular Methodist or Baptist chapel, and afterwards contemptuously to mean "dissenting chapel" (1856).
Scrouge: 'a crush, squeeze, or crowd' (1839), from such dialects as those spoken in Kent and Cornwall.
Bob: a pet form of Robert; also, London slang for a coin worth 1.5 pence in the 14th c., and by 1837 a shilling.
Cratchet: a dilemma, a tool used by thatchers, the stomach‹hence, to eat heartily.
Crotchet: a whimsical fancy, a peculiar notion held by an individual in opposition to popular opinion (1831).
Jacob: in 1662 a Jacobus was a gold coin; otherwise, the name alludes to the biblical patriarch who in Genesis 30: 40 made the inferior sheep he had been given breed faster.
Marley: from marl (soil); in Yorkshire, sleet.
Come Down: an expression meaning "to lay down money"; in 1822, Chrystal II. 248: "I'll make them come down, and handsomely too, or they shall repent for it."
Humbug: colloquially, a hoax, imposition, fraud, or sham (1751); used interjectionally to mean "stuff and nonsense" (1825); in slang, to deceive or cheat.
Situation: post or employment (1813).
Bedlam: the Hospital of St. Mary of Bethlehem, founded as a priory in 1247; by 1402, it was a hospital or asylum for lunatics; by extension, any madhouse (1663); hence, any scene of mad confusion (1667).
Sovereign: a gold coin originally worth 22s. 6d., but latterly worth only 10 or 11 shillings; by royal proclamation in 1817 the coin's value was fixed at twenty shillings.
Copper: a vessel made of copper. particularly a large boiler for cooking or laundry purposes, but now more often made of iron (1833).
'Change: a place of (financial or commercial) exchange, as in the King's or Queen's Exchange (1601); a money changer's office (1569); the 'Burse' or Exchange built in London by Sir Thomas Gresham in 1566 received from Queen Elizabeth I the name of the Royal Exchange.
Griping: The action of grip[p]ing, clutching, grasping, or seizing tenaciously, especially with the hands, arms, claws, and the like.
Prize Turkey: Although we associate Victorian Christmas festivities with roast goose, for those who could not afford it the meatier turkey was preferable. The North American M. gallopavo had already been domesticated in Mexico, and shortly after the Spanish discovery of that country in 1518 was introduced to Europe for the table (OED XI, 480).
Skreeks: from Screech (also screik, screak, skreigh), to utter a loud, shrill cry.
Fusty: That which has lost its freshness, stale-smelling, musty, as of a wine-cask; of bread, corn, meat, etc., smelling of mould or damp (1491); hence, that which has lost its interest.
Source: The Victorian Web Here
Character Study of Scrooge:
"Oh! But he was a tight-fisted hand at the grindstone, Scrooge! a squeezing, wrenching, grasping, scraping, clutching, covetous, old sinner! Hard and sharp as flint, from which no steel had ever struck out generous fire; secret, and self-contained, and solitary as an oyster. The cold within him froze his old features, nipped his pointed nose, shrivelled his cheek, stiffened his gait; made his eyes red, his thin lips blue; and spoke out shrewdly in his grating voice. A frosty rime was on his head, and on his eyebrows, and his wiry chin. He carried his own low temperature always about with him; he iced his office in the dog-days; and didn't thaw it one degree at Christmas.
"External heat and cold had little influence on Scrooge. No warmth could warm, no wintry weather chill him. No wind that blew was bitterer than he, no falling snow was more intent upon its purpose, no pelting rain less open to entreaty. Foul weather didn't know where to have him. The heaviest rain, and snow, and hail, and sleet, could boast of the advantage over him in only one respect. They often "came down" handsomely, and [p. 5] Scrooge never did.
"Nobody ever stopped him in the street to say, with gladsome looks, "My dear Scrooge, how are you? When will you come to see me?" No beggars implored him to bestow a trifle, no children asked him what it was o'clock, no man or woman ever once in all his life inquired the way to such and such a place, of Scrooge. Even the blind men's dogs appeared to know him; and when they saw him coming on, would tug their owners into doorways and up courts; and then would wag their tails as though they said, "No eye at all is better than an evil eye, dark master!"
"But what did Scrooge care! It was the very thing he liked. To edge his way along the crowded paths of life, warning all human sympathy to keep its distance, was what the knowing ones call "nuts" to Scrooge.
. . .
"The door of Scrooge's counting-house was open that he might keep his eye upon his clerk, who in a dismal little cell beyond, a sort of tank, was copying letters. Scrooge had a very small fire, but the clerk's fire was so very much smaller that it looked like one coal. But he couldn't replenish it, for Scrooge kept the coal-box in his own room…." [p. 6]
Scrooge's Nephew
"'A merry Christmas, uncle! God save you!' cried a cheerful voice.
. . .
"He had so heated himself with rapid walking in the fog and frost, this nephew of Scrooge's, that he was all in a glow; his face was ruddy and handsome; his eyes sparkled, and his breath smoked again." [p. 6]
Imagery
After Scrooge dismisses the men who came to his office seeking a charitable offering for the poor, the streets became darker and foggier than usual:
"Meanwhile the fog and darkness thickened…. The ancient tower of a church, whose gruff old bell was always peeping slily down at Scrooge out of a Gothic window in the wall, became invisible, and struck the hours and quarters in the clouds, with tremulous vibrations afterwards as if its teeth were chattering in its frozen head up there. The cold became intense. …The brightness of the shops where holly sprigs and berries crackled in the lamp heat of the windows, made pale faces ruddy as they passed.
. . .
"Foggier yet, and colder. Piercing, searching, biting cold." [p. 9]
Description of Scrooge's Home
"He lived in chambers which had once belonged to his deceased partner. They were a gloomy suite of rooms, in a lowering pile of building up a yard, where it had so little business to be, that one could scarcely help fancying it must have run there when it was a young house, playing at hide-and-seek with other houses, and forgotten the way out again. It was old enough now, and dreary enough, for nobody lived in it but Scrooge, the other rooms being all let out as offices. The yard was so dark that even Scrooge, who knew its every stone, was fain to grope with his hands. The fog and frost so hung about the black old gateway of the house, that it seemed as if the Genius of the Weather sat in mournful meditation on the threshold." [p. 10].
Marley's Face in the Door Knocker – The First Supernatural Occurrence
"Marley was dead: to begin with. There is no doubt whatever about that. The register of his burial was signed by the clergyman, the clerk, the undertaker, and the chief mourner. Scrooge signed it: and Scrooge's name was good upon 'Change, for anything he chose to put his hand to. Old Marley was as dead as a door-nail."  [p. 5]
"Now, it is a fact, that there was nothing at all particular about the knocker on the door, except that it was very large. It is also a fact, that Scrooge had seen it, night and morning, during his whole residence in that place; also that Scrooge had as little of what is called fancy about him as any man in the city of London….
"And then let any man explain to me, if he can, how it happened that Scrooge, having his key in the lock of the door, saw in the knocker, without its undergoing any intermediate process of change—not a knocker, but Marley's face.
"Marley's face. It was not in impenetrable shadow as the other objects in the yard were, but had a dismal light about it, like a bad lobster in a dark cellar. It was not angry or ferocious, but looked at Scrooge as Marley used to look: with ghostly spectacles turned up on its ghostly forehead. The hair was curiously stirred, as if by breath or hot air; and, though the eyes were wide open, they were perfectly motionless. That, and its livid colour, made it horrible; but its horror seemed to be in spite of the face and beyond its control, rather than a part of its own expression.
"As Scrooge looked fixedly at this phenomenon, it was a knocker again." [p.10]
Second Supernatural Occurrence – Marley's Face Appears on Stones around the Fireplace
"It was a very low fire indeed; nothing on such a bitter night. He was obliged to sit close to it, and brood over it, before he could extract the least sensation of warmth from such a handful of fuel. The fireplace was an old one, built by some Dutch merchant long ago, and paved all round with quaint Dutch tiles, designed to illustrate the Scriptures. There were Cains and Abels, Pharaoh's daughters; Queens of Sheba, Angelic messengers descending through the air on clouds like feather-beds, Abrahams, Belshazzars, Apostles putting off to sea in butter-boats, hundreds of figures to attract his thoughts; and yet that face of Marley, seven years dead, came like the ancient Prophet's rod, and swallowed up the whole." [p. 11].
Third Supernatural Occurrence – Bell Begins to Ring
"As he threw his head back in the chair, his glance happened to rest upon a bell, a disused bell, that hung in the room, and communicated for some purpose now forgotten with a chamber in the highest story of the building. It was with great astonishment, and with a strange, inexplicable dread, that as he looked, he saw this bell begin to swing. It swung so softly in the outset that it scarcely made a sound; but soon it rang out loudly, and so did every bell in the house.
"This might have lasted half a minute, or a minute, but it seemed an hour." [p. 11]
Fourth Supernatural Occurrence – Marley's Ghost
"The bells ceased as they had begun, together. They were succeeded by a clanking noise, deep down below; as if some person were dragging a heavy chain over the casks in the wine-merchant's cellar. Scrooge then remembered to have heard that ghosts in haunted houses were described as dragging chains.
"The cellar-door flew open with a booming sound, and then he heard the noise much louder, on the floors below; then coming up the stairs; then coming straight towards his door.
" 'It's humbug still!' said Scrooge. 'I won't believe it.'
"His colour changed though, when, without a pause, it came on through the heavy door, and passed into the room before his eyes. Upon its coming in, the dying flame leaped up, as though it cried, 'I know him; Marley's Ghost!' and fell again." [p. 11].
Description of Marley's Ghost
"The same face: the very same. Marley in his pigtail, usual waistcoat, tights and boots; the tassels on the latter bristling, like his pigtail, and his coat-skirts, and the hair upon his head. The chain he drew was clasped about his middle. It was long, and wound about him like a tail; and it was made (for Scrooge observed it closely) of cash-boxes, keys, padlocks, ledgers, deeds, and heavy purses wrought in steel. His body was transparent; so that Scrooge, observing him, and looking through his waistcoat, could see [p.12] the two buttons on his coat behind.
"Scrooge had often heard it said that Marley had no bowels, but he had never believed it until now.
"No, nor did he believe it even now. Though he looked the phantom through and through, and saw it standing before him; though he felt the chilling influence of its death-cold eyes; and marked the very texture of the folded kerchief bound about its head and chin, which wrapper he had not observed before; he was still incredulous, and fought against his senses." [p.13]
. . .
"… for though the Ghost sat perfectly motionless, its hair, and skirts, and tassels, were still agitated as by the hot vapour from an oven." [p. 13]
. . .
'… the spirit raised a frightful cry, and shook its chain with such a dismal and appalling noise, that Scrooge held on tight to his chair, to save himself from falling in a swoon. But how much greater was his horror, when the phantom taking off the bandage round its head, as if it were too warm to wear indoors, its lower jaw dropped down upon its breast!" [P. 14]
Why Does Marley's Ghost Visit Scrooge?
" 'It is required of every man,' the Ghost returned, 'that the spirit within him should walk abroad among his fellowmen, and travel far and wide; and if that spirit goes not forth in life, it is condemned to do so after death. It is doomed to wander through the world—oh, woe is me!—and witness what it cannot share, but might have shared on earth, and turned to happiness!'
Again the spectre raised a cry, and shook its chain and wrung its shadowy hands.
'You are fettered,' said Scrooge, trembling. 'Tell me why?'
'I wear the chain I forged in life,' replied the Ghost. 'I made it link by link, and yard by yard; I girded it on of my own free will, and of my own free will I wore it. Is its pattern strange to you?' " [p. 14]
. . .
" "I am here to-night to warn you, that you have yet a chance and hope of escaping my fate. A chance and hope of my procuring, Ebenezer.' " [p. 15]
Fifth Supernatural Occurrence – Time – Three Nights Passed in 1 Night
"To his great astonishment the heavy bell went on from six to seven, and from seven to eight, and regularly up to twelve; then stopped. Twelve! It was past two when he went to bed. The clock was wrong. An icicle must have got into the works. Twelve!
"He touched the spring of his repeater, to correct this most preposterous clock. Its rapid little pulse beat twelve: and stopped.
'Why, it isn't possible,' said Scrooge, 'that I can have slept through a whole day and far into another night. It isn't possible that anything has happened to the sun, and this is twelve at noon!' " [p. 18]
Sixth Supernatural Occurrence – The Ghost of Christmas Past 
"It was a strange figure—like a child: yet not so like a child as like an old man, viewed through some supernatural medium, which gave him the appearance of having receded from the view, and being diminished to a child's proportions. Its hair, which hung about its neck and down its back, was white as if with age; and yet the face had not a wrinkle in it, and the tenderest bloom was on the skin. The arms were very long and muscular; the hands the same, as if its hold were of uncommon strength. Its legs and feet, most delicately formed, were, like those upper members, bare. It wore a tunic of the purest white; and round its waist was bound a lustrous belt, the sheen of which was beautiful. It held a branch of fresh green holly in its hand; and, in singular contradiction of that wintry emblem, had its dress trimmed with summer flowers. But the strangest thing about it was, that from the crown of its head there sprung a bright clear jet of light, by which all this was visible; and which was doubtless the occasion of its using, in its duller moments, a great extinguisher for a cap, which it now held under its arm.
Even this, though, when Scrooge looked at it with increasing steadiness, was not its strangest quality. For as its belt sparkled and glittered now in one part and now in another, and what was light one instant, at another time was dark, so the figure itself fluctuated in its distinctness: being now a thing with one arm, now with one leg, now with twenty legs, now a pair of legs without a head, now a head without a body: of which dissolving parts, no outline would be visible in the dense gloom wherein they melted away. And in the very wonder of this, it would be itself again; distinct and clear as ever.
'Are you the Spirit, sir, whose coming was foretold to me?' asked Scrooge.
'I am!'
"The voice was soft and gentle. Singularly low, as if instead of being so close beside him, it were at a distance.
'Who, and what are you?' Scrooge demanded.
'I am the Ghost of Christmas Past.'
'Long Past?' inquired Scrooge: observant of its dwarfish stature.
'No. Your past.' [p. 19]
. . .
"It put out its strong hand as it spoke, and clasped him gently by the arm." [p. 20]
. . .
"…they passed through the wall, and stood upon an open country road, with fields on either hand. The city had entirely vanished. Not a vestige of it was to be seen. The darkness and the mist had vanished with it, for it was a clear, cold, winter day, with snow upon the ground.
'Good Heaven!' said Scrooge, clasping his hands together, as he looked about him. 'I was bred in this place. I was a boy here!'
The Spirit gazed upon him mildly. Its gentle touch, though it had been light and instantaneous, appeared still present to the old man's sense of feeling. He was conscious of a thousand odours floating in the air, each one connected with a thousand thoughts, and hopes, and joys, and cares long, long, forgotten!
'Your lip is trembling," said the Ghost. "And what is that upon your cheek?'
. . .
"They walked along the road, Scrooge recognising every gate, and post, and tree; until a little market-town appeared in the distance, with its bridge, its church, and winding river. Some shaggy ponies now were seen trotting towards them with boys upon their backs, who called to other boys in country gigs and carts, driven by farmers. All these boys were in great spirits, and shouted to each other, until the broad fields were so full of merry music, that the crisp air laughed to hear it!"
. . .
"The school is not quite deserted," said the Ghost. "A solitary child, neglected by his friends, is left there still." Scrooge said he knew it. And he sobbed. They left the high-road, by a well-remembered lane, and soon approached a mansion of dull red brick, with a little weathercock-surmounted cupola, on the roof, and a [p. 20] a bell hanging in it. It was a large house, but one of broken fortunes; for the spacious offices were little used, their walls were damp and mossy, their windows broken, and their gates decayed. Fowls clucked and strutted in the stables; and the coach-houses and sheds were over-run with grass. Nor was it more retentive of its ancient state, within; for entering the dreary hall, and glancing through the open doors of many rooms, they found them poorly furnished, cold, and vast. There was an earthy savour in the air, a chilly bareness in the place, which associated itself somehow with too much getting up by candle-light, and not too much to eat.
They went, the Ghost and Scrooge, across the hall, to a door at the back of the house. It opened before them, and disclosed a long, bare, melancholy room, made barer still by lines of plain deal forms and desks. At one of these a lonely boy was reading near a feeble fire; and Scrooge sat down upon a form, and wept to see his poor forgotten self as he used to be." [p. 21]
Memory of Another Christmas When Scrooge Was an Older Youth and Still at School
"Scrooge looked at the Ghost, and with a mournful shaking of his head, glanced anxiously towards the door.
It opened; and a little girl, much younger than the boy, came darting in, and putting her arms about his neck, and often kissing him, addressed him as her "Dear, dear brother."
"I have come to bring you home, dear brother!" said the child, clapping her tiny hands, and bending down to laugh. "To bring you home, home, home!"
"Home, little Fan?" returned the boy.
"Yes!" said the child, brimful of glee. "Home, for good and all. Home, for ever and ever. Father is so much kinder than he used to be, that home's like Heaven! He spoke so gently to me one dear night when I was going to bed, that I was not afraid to ask him once more if you might come home; and he said Yes, you should; and sent me in a coach to bring you. And you're to be a man!" said the child, opening her eyes, "and are never to come back here; but first, we're to be together all the Christmas long, and have the merriest time in all the world." [p. 22]
Description of Fan
"'Always a delicate creature, whom a breath might have withered," said the Ghost. "But she had a large heart!'" [p. 24]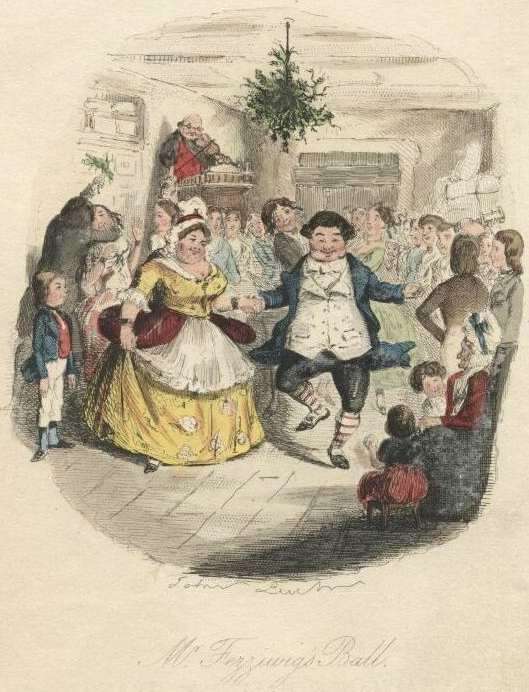 Description of Fezziwig & His Christmas Eve Party
"They went in. At sight of an old gentleman in a Welsh wig, sitting behind such a high desk, that if he had been two inches taller he must have knocked his head against the ceiling…
" 'Yo ho, my boys!' said Fezziwig. 'No more work to-night. Christmas Eve, Dick. Christmas, Ebenezer! Let's have the shutters up," cried old Fezziwig, with a sharp clap of his hands, "before a man can say Jack Robinson!'
. . .
"Every movable was packed off, as if it were dismissed from public life for evermore; the floor was swept and watered, the lamps were trimmed, fuel was heaped upon the fire; and the warehouse was as snug, and warm, and dry, and bright a ball-room, as you would desire to see upon a winter's night.
In came a fiddler with a music-book, and went up to the lofty desk, and made an orchestra of it, and tuned like fifty stomach-aches. In came Mrs. Fezziwig, one vast substantial smile. In came the three Miss Fezziwigs, beaming and lovable. In came the six young followers whose hearts they broke. In came all the young men and women employed in the business. In came the housemaid, with her cousin, the baker. In came the cook, with her brother's particular friend, the milkman. In came the boy from over the way, who was suspected of not having board enough from his master; trying to hide himself behind the girl from next door but one, who was proved to have had her ears pulled by her mistress. In they all came, one after another; some shyly, some boldly, some gracefully, some awkwardly, some pushing, some pulling; in they all came [p. 24]….
"There were more dances, and there were forfeits, and more dances, and there was cake, and there was negus, and there was a great piece of Cold Roast, and there was a great piece of Cold Boiled, and there were mince-pies, and plenty of beer." [p. 25]
Scrooge Meets with His Former Fiancé
"For again Scrooge saw himself. He was older now; a man in the prime of life. His face had not the harsh and rigid lines of later years; but it had begun to wear the signs of care and avarice. There was an eager, greedy, restless motion in the eye, which showed the passion that had taken root, and where the shadow of the growing tree would fall.
He was not alone, but sat by the side of a fair young girl in a mourning-dress: in whose eyes there were tears, which sparkled in the light that shone out of the Ghost of Christmas Past.'
"It matters little," she said, softly. "To you, very little. Another idol has displaced me; and if it can cheer and comfort you in time to come, as I would have tried to do, I have no just cause to grieve."
"What Idol has displaced you?" he rejoined.
"A golden one."
"This is the even-handed dealing of the world!" he said. "There is nothing on which it is so hard as poverty; and there is nothing it professes to condemn with such severity as the pursuit of wealth!"
"You fear the world too much," she answered, gently. "All your other hopes have merged into the hope of being beyond the chance of its sordid reproach." [p. 29]
"They were in another scene and place; a room, not very large or handsome, but full of comfort. Near to the winter fire sat a beautiful young girl, so like that last that Scrooge believed it was the same, until he saw her, now a comely matron, sitting opposite her daughter. The noise in this room was perfectly tumultuous, for there were more children there, than Scrooge in his agitated state of mind could count; and, unlike the celebrated herd in the poem, they were not forty children conducting themselves like one, but every child was conducting itself like forty. The consequences were uproarious beyond belief; but no one seemed to care; on the contrary, the mother and daughter laughed heartily, and enjoyed it very much; and the latter, soon beginning to mingle in the sports, got pillaged by the young brigands most ruthlessly. What would I not have given to be one of them!
. . .
"… she with laughing face and plundered dress was borne towards it the centre of a flushed and boisterous group, just in time to greet the father, who came home attended by a man laden with Christmas toys and presents. Then the shouting and the struggling, and the onslaught that was made on the defenceless porter! The scaling him with chairs for ladders to dive into his pockets, despoil him of brown-paper parcels, hold on tight by his cravat, hug him round his neck, pommel his back, and kick his legs in irrepressible affection! The shouts of wonder and delight with which the development of every package was received! " [p. 30]
Stave Three 
The Ghost of Christmas Present
"It was his own room. There was no doubt about that. But it had undergone a surprising transformation. The walls and ceiling were so hung with living green, that it looked a perfect grove; from every part of which, bright gleaming berries glistened. The crisp leaves of holly, mistletoe, and ivy reflected back the light, as if so many little mirrors had been scattered there; and such a mighty blaze went roaring up the chimney, as that dull petrification of a hearth had never known in Scrooge's time, or Marley's, or for many and many a winter season gone. Heaped up on the floor, to form a kind of throne, were turkeys, geese, game, poultry, brawn, great joints of meat, sucking-pigs, long wreaths of sausages, mince-pies, plum-puddings, barrels of oysters, red-hot chestnuts, cherry-cheeked apples, juicy oranges, luscious pears, immense twelfth-cakes, and seething bowls of punch, that made the chamber dim with their delicious steam. In easy state upon this couch, there sat a jolly Giant, glorious to see; who bore a glowing torch, in shape not unlike Plenty's horn, and held it up, high up, to shed its light on Scrooge, as he came peeping round the door.
. . .
"He was not the dogged Scrooge he had been; and though the Spirit's eyes were clear and kind, he did not like to meet them.
"I am the Ghost of Christmas Present," said the Spirit. "Look upon me!"
Scrooge reverently did so. It was clothed in one simple green robe, or mantle, bordered with white fur. This garment hung so loosely on the figure, that its capacious breast was bare, as if disdaining to be warded or concealed by any artifice. Its feet, observable beneath the ample folds of the garment, were also bare; and on its head it wore no other covering than a holly wreath, set here and there with shining icicles. Its dark brown curls were long and free; free as its genial face, its sparkling eye, its open hand, its cheery voice, its unconstrained demeanour, and its joyful air. Girded round its middle was an antique scabbard; but no sword was in it, and the ancient sheath was eaten up with rust. [p. 34]
. . .
Great Description of Victorian England at Christmas Time
" 'Touch my robe!'
"Scrooge did as he was told, and held it fast.
"Holly, mistletoe, red berries, ivy, turkeys, geese, game, poultry, brawn, meat, pigs, sausages, oysters, pies, puddings, fruit, and punch, all vanished instantly. So did the room, the fire, the ruddy glow, the hour of night, and they stood in the city streets on Christmas morning, where (for the weather was severe) the people made a rough, but brisk and not unpleasant kind of music, in scraping the snow from the pavement in front of their dwellings, and from the tops of their houses, whence it was mad delight to the boys to see it come plumping down into the road below, and splitting into artificial little snow-storms.
"The house fronts looked black enough, and the windows blacker, contrasting with the smooth white sheet of snow upon the roofs, and with the dirtier snow upon the ground; which last deposit had been ploughed up in deep furrows by the heavy wheels of carts and waggons; furrows that crossed and re-crossed each other hundreds of times where the great streets branched off; and made intricate channels, hard to trace in the thick yellow mud and icy water. The sky was gloomy, and the shortest streets were choked up with a dingy mist, half thawed, half frozen, whose heavier particles descended in a shower of sooty atoms, as if all the chimneys in Great Britain had, by one consent, caught fire, and were blazing away to their dear hearts' content. There was nothing very cheerful in the climate or the town, and yet was there an air of cheerfulness abroad that the clearest summer air and brightest summer sun might have endeavoured to diffuse in vain.
"For, the people who were shovelling away on the housetops were jovial and full of glee; calling out to one another from the parapets, and now and then exchanging a facetious snowball—better-natured missile far than many a wordy jest—laughing heartily if it went right and not less heartily if it went wrong. The poulterers' shops were still half open, and the fruiterers' were radiant in their glory. There were great, round, pot-bellied baskets of chestnuts, shaped like the waistcoats of jolly old gentlemen, lolling at the doors, and tumbling out into the street in their apoplectic opulence. There were ruddy, brown-faced, broad-girthed Spanish Onions, shining in the fatness of their growth like Spanish Friars, and winking from their shelves in wanton slyness at the girls as they went by, and glanced demurely at the hung-up mistletoe. There were pears and apples, clustered high in blooming pyramids; there were bunches of grapes, made, in the shopkeepers' benevolence to dangle from conspicuous hooks, that people's mouths might water gratis as they passed; there were piles of filberts, mossy and brown, recalling, in their fragrance, ancient walks among the woods, and pleasant shufflings ankle deep through withered leaves; there were Norfolk Biffins, squat and swarthy, setting off the yellow of the oranges and lemons, and, in the great compactness of their juicy persons, urgently entreating and beseeching to be carried home in paper bags and eaten after dinner. The very gold and silver fish, set forth among these choice fruits in a bowl, though members of a dull and stagnant-blooded race, appeared to know that there was something going on; and, to a fish, went gasping round and round their little world in slow and passionless excitement.
The Grocers'! oh, the Grocers'! nearly closed, with perhaps two shutters down, or one; but through those gaps such glimpses! It was not alone that the scales descending on the counter made a merry sound, or that the twine and roller parted company so briskly, or that the canisters were rattled up and down like juggling tricks, or even that the blended scents of tea and coffee were so grateful to the nose, or even that the raisins were so plentiful and rare, the almonds so extremely white, the sticks of cinnamon so long and straight, the other spices so delicious, the candied fruits so caked and spotted with molten sugar as to make the coldest lookers-on feel faint and subsequently bilious. Nor was it that the figs were moist and pulpy, or that the French plums blushed in modest tartness from their highly-decorated boxes, or that everything was good to eat and in its Christmas dress; but the customers were all so hurried and so eager in the hopeful promise of the day, that they tumbled up against each other at the door, crashing their wicker baskets wildly, and left their purchases upon the counter, and came running back to fetch them, and committed [p. 37] were so frank and fresh that the polished hearts with which they fastened their aprons behind might have been their own, worn outside for general inspection, and for Christmas daws to peck at if they chose.
But soon the steeples called good people all, to church and chapel, and away they came, flocking through the streets in their best clothes, and with their gayest faces. And at the same time there emerged from scores of bye-streets, lanes, and nameless turnings, innumerable people, carrying their dinners to the bakers' shops. The sight of these poor revellers appeared to interest the Spirit very much, for he stood with Scrooge beside him in a baker's doorway, and taking off the covers as their bearers passed, sprinkled incense on their dinners from his torch. And it was a very uncommon kind of torch, for once or twice when there were angry words between some dinner-carriers who had jostled each other, he shed a few drops of water on them from it, and their good humour was restored directly. For they said, it was a shame to quarrel upon Christmas Day. And so it was! God love it, so it was!
. . .
The Spirit Leads Scrooge to Bob Cratchit's House
"…and on the threshold of the door the Spirit smiled, and stopped to bless Bob Cratchit's dwelling with the sprinkling of his torch. Think of that! Bob had but fifteen "Bob" a-week himself; he pocketed on Saturdays but fifteen copies of his Christian name; and yet the Ghost of Christmas Present blessed his four-roomed house!" [p. 38]
The Cratchit's Christmas Meal [with Goose]
"Such a bustle ensued that you might have thought a goose the rarest of all birds; a feathered phenomenon, to which a black swan was a matter of course—and in truth it was something very like it in that house. Mrs. Cratchit made the gravy (ready beforehand in a little saucepan) hissing hot; Master Peter mashed the potatoes with incredible vigour; Miss Belinda sweetened up the apple-sauce; Martha dusted the hot plates; Bob took Tiny Tim beside him in a tiny corner at the table; the two young Cratchits set chairs for everybody, not forgetting themselves, and mounting guard upon their posts, crammed spoons into their mouths, lest they should shriek for goose before their turn came to be helped. At last the dishes were set on, and grace was said. It was succeeded by a breathless pause, as Mrs. Cratchit, looking slowly all along the carving-knife, prepared to plunge it in the breast; but when she did, and when the long expected gush of stuffing issued forth, one murmur of delight arose all round the board, and even Tiny Tim, excited by the two young Cratchits, beat on the table with the handle of his knife, and feebly cried Hurrah!
"There never was such a goose. Bob said he didn't believe there ever was such a goose cooked. Its tenderness and flavour, size and cheapness, were the themes of universal admiration. Eked out by apple-sauce and mashed potatoes, it was a sufficient dinner for the whole family; indeed, as Mrs. Cratchit said with great delight (surveying one small atom of a bone upon the dish), they hadn't ate it all at last! Yet every one had had enough, and the youngest Cratchits in particular, were steeped in sage and onion to the eyebrows! But now, the plates being changed by Miss Belinda, Mrs. Cratchit left the room alone—too nervous to bear witnesses—to take the pudding up and bring it in.
"Suppose it should not be done enough! Suppose it should break in turning out! Suppose somebody should have got over the wall of the back-yard, and stolen it, while they were merry with the goose—a supposition at which the two young Cratchits became livid! All sorts of horrors were supposed.
"Hallo! A great deal of steam! The pudding was out of the copper. A smell like a washing-day! That was the cloth. A smell like an eating-house and a pastrycook's next door to each other, with a laundress's next door to that! That was the pudding! In half a minute Mrs. [p. 39] Cratchit entered—flushed, but smiling proudly—with the pudding, like a speckled cannon-ball, so hard and firm, blazing in half of half-a-quartern of ignited brandy, and bedight with Christmas holly stuck into the top.
Oh, a wonderful pudding! Bob Cratchit said, and calmly too, that he regarded it as the greatest success achieved by Mrs. Cratchit since their marriage. Mrs. Cratchit said that now the weight was off her mind, she would confess she had had her doubts about the quantity of flour. Everybody had something to say about it, but nobody said or thought it was at all a small pudding for a large family. It would have been flat heresy to do so. Any Cratchit would have blushed to hint at such a thing.
At last the dinner was all done, the cloth was cleared, the hearth swept, and the fire made up. The compound in the jug being tasted, and considered perfect, apples and oranges were put upon the table, and a shovel-full of chestnuts on the fire. Then all the Cratchit family drew round the hearth, in what Bob Cratchit called a circle, meaning half a one; and at Bob Cratchit's elbow stood the family display of glass. Two tumblers, and a custard-cup without a handle.
These held the hot stuff from the jug, however, as well as golden goblets would have done; and Bob served it out with beaming looks, while the chestnuts on the fire sputtered and cracked noisily. Then Bob proposed:
"A Merry Christmas to us all, my dears. God bless us!"
Which all the family re-echoed.
"God bless us every one!" said Tiny Tim, the last of all." 
. . .
"Spirit," said Scrooge, with an interest he had never felt before, "tell me if Tiny Tim will live."
"I see a vacant seat," replied the Ghost, "in the poor chimney-corner, and a crutch without an owner, carefully preserved. If these shadows remain unaltered by the Future, the child will die."
"No, no," said Scrooge. "Oh, no, kind Spirit! say he will be spared."
"If these shadows remain unaltered by the Future, none other of my race," returned the Ghost, "will find him here. What then? If he be like to die, he had better do it, and decrease the surplus population."
"Scrooge hung his head to hear his own words quoted by the Spirit, and was overcome with penitence and grief. [p. 40]
Description of the Cratchits
"They were not a handsome family; they were not well dressed; their shoes were far from being water-proof; their clothes were scanty; and Peter might have known, and very likely did, the inside of a pawnbroker's. But, they were happy, grateful, pleased with one another, and contented with the time…." [p. 43]
Another Description of Victorian England at Christmas
"By this time it was getting dark, and snowing pretty heavily; and as Scrooge and the Spirit went along the streets, the brightness of the roaring fires in kitchens, parlours, and all sorts of rooms, was wonderful. Here, the flickering of the blaze showed preparations for a cosy dinner, with hot plates baking through and through before the fire, and deep red curtains, ready to be drawn to shut out cold and darkness. There all the children of the house were running out into the snow to meet their married sisters, brothers, cousins, uncles, aunts, and be the first to greet them. Here, again, were shadows on the window-blind of guests assembling; and there a group of handsome girls, all hooded and fur-booted, and all chattering at once, tripped lightly off to some near neighbour's house; where, woe upon the single man who saw them enter—artful witches, well they knew it—in a glow!
But, if you had judged from the numbers of people on their way to friendly gatherings, you might have thought that no one was at home to give them welcome when they got there, instead of every house expecting company, and piling up its fires half-chimney high. Blessings on it, how the Ghost exulted! How it bared its breadth of breast, and opened its capacious palm, and floated on, outpouring, with a generous hand, its bright and harmless mirth on everything within its reach! The very lamplighter, who ran on before, dotting the dusky street with specks of light, and who was dressed to spend the evening somewhere, laughed out loudly as the Spirit passed, though little kenned the lamplighter that he had any company but Christmas!" [p. 43]
The Second Spirit Takes Scrooge to Sea – A Part Not in the Movies
":And now, without a word of warning from the Ghost, they stood upon a bleak and desert moor, where monstrous masses of rude stone were cast about, as though it were the burial-place of giants; and water spread itself wheresoever it listed, or would have done so, but for the frost that held it prisoner; and nothing grew but moss and furze, and coarse rank grass. Down in the west the setting sun had left a streak of fiery red, which glared upon the desolation for an instant, like a sullen eye, and frowning lower, lower, lower yet, was lost in the thick gloom of darkest night.
`What place is this.' asked Scrooge.
`A place where Miners live, who labour in the bowels of the earth,' returned the Spirit.
. . .
"But even here, two men who watched the light had made a fire, that through the loophole in the thick stone wall shed out a ray of brightness on the awful sea. Joining their horny hands over the rough table at which they sat, they wished each other Merry Christmas in their can of grog; and one of them: the elder, too, with his face all damaged and scarred with hard weather, as the figure-head of an old ship might be: struck up a sturdy song that was like a Gale in itself.
"Again the Ghost sped on, above the black and heaving sea — on, on — until, being far away, as he told Scrooge, from any shore, they lighted on a ship. They stood beside the helmsman at the wheel, the look-out in the bow, the officers who had the watch; dark, ghostly figures in their several stations; but every man among them hummed a Christmas tune, or had a Christmas thought, or spoke below his breath to his companion of some bygone Christmas Day, with homeward hopes belonging to it. And every man on board, waking or sleeping, good or bad, had had a kinder word for another on that day than on any day in the year; and had shared to some extent in its festivities….
Stave Four – The Ghost of Christmas Yet to Come
"The Phantom slowly, gravely, silently approached. When it came, Scrooge bent down upon his knee; for in the very air through which this Spirit moved it seemed to scatter gloom and mystery.
"It was shrouded in a deep black garment, which concealed its head, its face, its form, and left nothing of it visible save one outstretched hand. But for this it would have been difficult to detach its figure from the night, and separate it from the darkness by which it was surrounded.
"He felt that it was tall and stately when it came beside him, and that its mysterious presence filled him with a solemn dread. He knew no more, for the Spirit neither spoke nor moved.
`I am in the presence of the Ghost of Christmas Yet To Come.' said Scrooge.
[Scrooge has died and the arrive at a beetling shop. In Victorian England, a beetling shop is where they pounded fibers together to create a linen-like fabric. In the book A Christmas Carol, Scrooge's linens were being processed, trying to turn them into a small profit.]
"Far in this den of infamous resort, there was a low-browed, beetling shop, below a pent-house roof, where iron, old rags, bottles, bones, and greasy offal, were bought. Upon the floor within, were piled up heaps of rusty keys, nails, chains, hinges, files, scales, weights, and refuse iron of all kinds. Secrets that few would like to scrutinise were bred and hidden in mountains of unseemly rags, masses of corrupted fat, and sepulchres of bones. Sitting in among the wares he dealt in, by a charcoal stove, made of old bricks, was a grey-haired rascal, nearly seventy years of age; who had screened himself from the cold air without, by a frousy curtaining of miscellaneous tatters, hung upon a line; and smoked his pipe in all the luxury of calm retirement."
[Since Scrooge had no one to see after him, upon his death, several people had gathered Scrooge's belongings to sell to Joe, at the beetling shop.]
"Joe went down on his knees for the greater convenience of opening it, and having unfastened a great many knots, dragged out a large and heavy roll of some dark stuff.
`What do you call this.' said Joe. `Bed-curtains.'
`Ah.' returned the woman, laughing and leaning forward on her crossed arms. `Bed-curtains.'
`You don't mean to say you took them down, rings and all, with him lying there.' said Joe.
`Yes I do,' replied the woman. `Why not.'
. . .
`His blankets.' asked Joe.
`Whose else's do you think.' replied the woman. `He isn't likely to take cold without them, I dare say.'
`I hope he didn't die of any thing catching. Eh.' said old Joe, stopping in his work, and looking up.
`Don't you be afraid of that,' returned the woman. `I an't so fond of his company that I'd loiter about him for such things, if he did. Ah. you may look through that shirt till your eyes ache; but you won't find a hole in it, nor a threadbare place. It's the best he had, and a fine one too. They'd have wasted it, if it hadn't been for me.'
`What do you call wasting of it.' asked old Joe.
`Putting it on him to be buried in, to be sure,' replied the woman with a laugh. `Somebody was fool enough to do it, but I took it off again. If calico an't good enough for such a purpose, it isn't good enough for anything. It's quite as becoming to the body. He can't look uglier than he did in that one.'
Stave Five
"Running to the window, he opened it, and put out his head. No fog, no mist; clear, bright, jovial, stirring, cold; cold, piping for the blood to dance to; Golden sunlight; Heavenly sky; sweet fresh air; merry bells. Oh, glorious. Glorious.
"`A merry Christmas, Bob,' said Scrooge, with an earnestness that could not be mistaken, as he clapped him on the back. `A merrier Christmas, Bob, my good fellow, than I have given you for many a year. I'll raise your salary, and endeavour to assist your struggling family, and we will discuss your affairs this very afternoon, over a Christmas bowl of smoking bishop, Bob. Make up the fires, and buy another coal-scuttle before you dot another i, Bob Cratchit.'
"Scrooge was better than his word. He did it all, and infinitely more; and to Tiny Tim, who did not die, he was a second father. He became as good a friend, as good a master, and as good a man, as the good old city knew, or any other good old city, town, or borough, in the good old world. Some people laughed to see the alteration in him, but he let them laugh, and little heeded them; for he was wise enough to know that nothing ever happened on this globe, for good, at which some people did not have their fill of laughter in the outset; and knowing that such as these would be blind anyway, he thought it quite as well that they should wrinkle up their eyes in grins, as have the malady in less attractive forms. His own heart laughed: and that was quite enough for him.
"He had no further intercourse with Spirits, but lived upon the Total Abstinence Principle, ever afterwards; and it was always said of him, that he knew how to keep Christmas well, if any man alive possessed the knowledge. May that be truly said of us, and all of us! And so, as Tiny Tim observed, God bless Us, Every One!"
Recipe for Smoking Bishop Here