Breakfast at Tiffany's is a movie that was released in 1961 when I was 11-years-old. It is loosely based on Truman Capote's novella by the same name.
Most of us know that Audrey Hepburn made fashion history in the black dress and sunglasses that she wore in the film. Like most people, I have long associated the fashion staple the little black dress with Audrey Hepburn and the movie Breakfast at Tiffany's, and when I as a child, I memorized the theme song "Moon River" and learned to play it on several instruments. In many ways, I grew up with Breakfast at Tiffany's and could have sworn that I had seen the movie before, but until yesterday, I had not.  I decided that I needed to correct that mistake, and I am glad that I did.
"The song 'Moon River' was written especially for Audrey Hepburn, since she had no training as a singer. The vocals were written to be sung in only one octave. The famous black dress worn by Audrey Hepburn in the opening scenes of this movie was sold for $807,000 on December 4, 2006 at Christie's Auction House in London, making it the second most expensive piece of movie memorabilia ever sold." Read More Here
"Tiffany's flagship store (since 1940) is located at the corner of Fifth Avenue and 57th Street in Manhattan, New York City. The former Tiffany and Company Building on 38th Street is on the U.S. National Register of Historic Places. The polished granite exterior is well known for its tiny window displays. The store has been the location for a number of films including Breakfast at Tiffany's, Sweet Home Alabama and Sleepless In Seattle." Read More Here
Aubrey Hepburn plays the part of Holly Golightly, a former Texas Hayseed who has somehow managed to land herself in a very expensive apartment on the Upper East Side.
"There are several sources that report the location for Holly Golightly apartment incorrectly. Some say it is number 171, whereas others say it is 169. In fact, the number showing in the film is 167 even though the correct number is 169." Read More Here
Breakfast at Tiffany's is classified as a Romantic Comedy, and I normally try to avoid that genre. For several minutes into the film, I thought that the movie was going to be silly, but by the end, I was in tears. Holly Golightly is a well-developed character who is caught in the fruitless snare of trying to play the part of someone that he can never be. One of my favorite Holly Golightly quotes is:
"But Doc, I'm not fourteen anymore, and I'm not Lulamae. But the terrible part is (and I realized it while we were standing there) I am. I'm still stealing turkey eggs and running through a briar patch. Only now I call it having the mean reds"
If you have Amazon Prime, you can watch the movie Breakfast at Tiffany's and several other related features free Here.
I have watched Breakfast at Tiffany's repeatedly now, and every time "Moon River" begins to play, I get cold chills. The weakest part of the film is Mickey Rooney's portrayal of Holly's Asian neighbor, and because the film quickly digresses into one of Rooney's scenes, I almost abandoned it too early.
I'm glad that I stuck with the movie through the rough patches and into the relationship that develops between Hepburn and George Peppard. This relationship and Holly's struggles with "the Reds" is the meat of the film.
Holly Golightly: You know those days when you get the mean reds?
Paul Varjak: The mean reds, you mean like the blues?
Holly Golightly: No. The blues are because you're getting fat and maybe it's been raining too long, you're just sad that's all. The mean reds are horrible. Suddenly you're afraid and you don't know what you're afraid of. Do you ever get that feeling?
Paul Varjak: Sure.
Holly Golightly: Well, when I get it the only thing that does any good is to jump in a cab and go to Tiffany's. Calms me down right away. The quietness and the proud look of it; nothing very bad could happen to you there. If I could find a real-life place that'd make me feel like Tiffany's, then – then I'd buy some furniture and give the cat a name!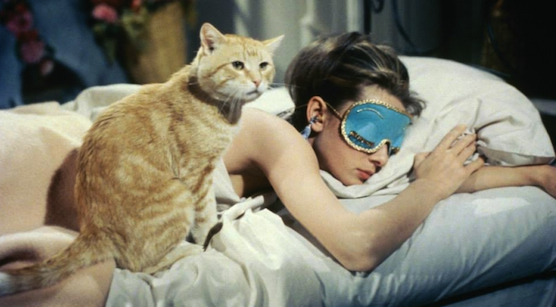 Cat, George Peppard, and Audrey Hepburn costar in Breakfast at Tiffany's, and each of them plays a vital role.
During the early part of the film, Cat is the only character who wasn't wearing a mask.
The New York Library also plays an important part in the development of Holly's character in Breakfast at Tiffany's. Until the Peppard character gives Holly a copy of his book, she had no books of her own.
(Puts single book into an otherwise entirely empty bookcase.) "…There now. Doesn't that look nice?"
"The New York Public Library (NYPL) is one of the leading public libraries of the world and is one of the United States's most significant research libraries. It is composed of a very large circulating public library system combined with a very large non-lending research library system. It is simultaneously one of the largest public library systems in the United States and one of the largest research library systems in the world. It is a privately managed, nonprofit corporation with a public mission, operating with both private and public financing.
"The NYPL has frequently appeared in feature films. It serves as the backdrop for a central plot development in the 2002 film Spider-Man and a major location in the 2004 apocalyptic science fiction film The Day After Tomorrow. In the 1978 film, The Wiz, Dorothy and Toto stumble across the Library and one of the Library Lions comes alive and joins them on their journey out of Oz. It is also featured prominently in the 1984 film Ghostbusters with three of the titular protagonists encounter the ghost of a librarian named Eleanor Twitty, who becomes violent when approached. Her origins and the Library's prominent standing are explored in the video game sequel, Ghostbusters: The Video Game. Other films in which the library appears include 42nd Street (1933), Portrait of Jennie (1948), Breakfast at Tiffany's (1961), You're a Big Boy Now (1966), Chapter Two (1979), Escape from New York (1981), Regarding Henry (1991), The Thomas Crown Affair (1999), The Time Machine (2002), and Sex and the City (2008)." Read More Here
Truman Capote became an important writer, and it seems appropriate that part of the film would take place in a library.  George Peppard plays the part of a writer, and that also seems appropriate. I also enjoyed seeing Patricia Neal in the film. Neal plays the part of the rich woman who "kept" Peppard. You may or may not know that in real life, Patricia Neal was the wife of famous author Roald Dahl. All of that seems to fit.
In 1961, I was 11-years-old and growing up in rural Southeast Missouri which is a world away from New York City. I did not visit New York City until 2010, and in an odd way, I am glad that I did not watch Breakfast at TIffany's until after I had become familiar with the Big Apple. My current home is very close to New York, and I visit the city often. As the film opens, a cab makes its way from Tiffany's to Holly's apartment, and it follows a route along what has become my favorite walkway. Breakfast at Tiffany's was filmed over half a century ago, the New York City that it captures is very much the same now as it was then, and I loved seeing NYC captured in the film.
Central Park is one of my very favorite places, and part of Breakfast at Tiffany's is filmed there.
Bandshell, Central Park (from 66th to 72nd Street) Manhattan
Conservatory Water, Central Park (from 72nd to 75th Street) Manhattan.
In most ways, Breakfast at TIffany's is a tame affair. Holly's party is one of the most savage scenes, and re-experiencing the Bossa Nova music of the era is pretty wild, too. The only reason that I could stand listening to that music again is because I am a bit nostalgic about it. Otherwise, it makes me cringe.
But the true monsters of the film are its rats, and the depth of the movie revolves around Holly's discoveries about them.
"All right — so he's not a regular rat, or even a super rat. He's just a scared little mouse. But — oh, golly, gee, damn!"
I don't want to completely destroy the film for people who haven't seen it yet, but the strength of the movie revolves around Holly Golightly's attempts to deny what is and is not valuable in life. Because of the honest way that Capote created Holly Golighty, Breakfast at Tiffany's is much more than Romantic Comedy.
"She's a phony. But she's a real phony. You know why? Because she honestly believes all this phony junk that she believes."
"Promise me one thing: don't take me home until I'm drunk — very drunk indeed."
"Didn't I tell you this was a lovely place?"
"I don't want to own anything until I find a place where me and things go together. I'm not sure where that is but I know what it is like. It's like Tiffany's."
"Do they still really have prizes in Cracker Jack boxes?" "…Oh; yes." "That's nice to know… It gives one a feeling of solidarity, almost of continuity with the past, that sort of thing."
"It's better to look at the sky than live there. Such an empty place; so vague. Just a country where the thunder goes and things disappear."
"No matter where you run, you just end up running into yourself."
"I'm like cat here, a no-name slob. We belong to nobody, and nobody belongs to us. We don't even belong to each other."
"…Where's the cat?"
"Oh, cat."
©Jacki Kellum July 9, 2017